Das United States Patent and Trademark Office erteilte im Juni das 10 000 000. US-Patent. Damit erreichen die Amerikaner einen neuen Meilenstein in ihrer seit 228 Jahren bestehenden Geschichte des geistigen Eigentums. Das Tempo der Neuerteilung von US-Patenten hat sich in den vergangenen Jahren jedoch verlangsamt.
Am 19. Juni 2018 hat das USPTO offiziell das Patent Nr. 10 000 000 erteilt. Das Patent mit der Bezeichnung "Coherent ladar using intra-pixel quadrature detection", erteilt an Joseph Marron, stellt somit einen neuen Meilenstein in der Geschichte des geistigen Eigentums dar. Das prominente Patent beschreibt einer Lasertechnik die auf den Gebieten des autonomen Fahrens, medizinischer Geräte, militärischer Geräte oder Weltraum- und Unterseeerkundung Anwendung finden kann.
Patentschutz in der US-Verfassung verankert
Der Ursprung des Patentschutzes in den USA geht lange zurück und wurde bereits 1787 in der Verfassung der Vereinigten Staaten von Amerika verankert. Dort heißt es in Abschnitt 8 des Artikel 1: 
"The Congress shall have Power…..To promote the Progress of Science and useful Arts, by securing for limited Times to Authors and Inventors the exclusive Right to their respective Writings and Discoveries"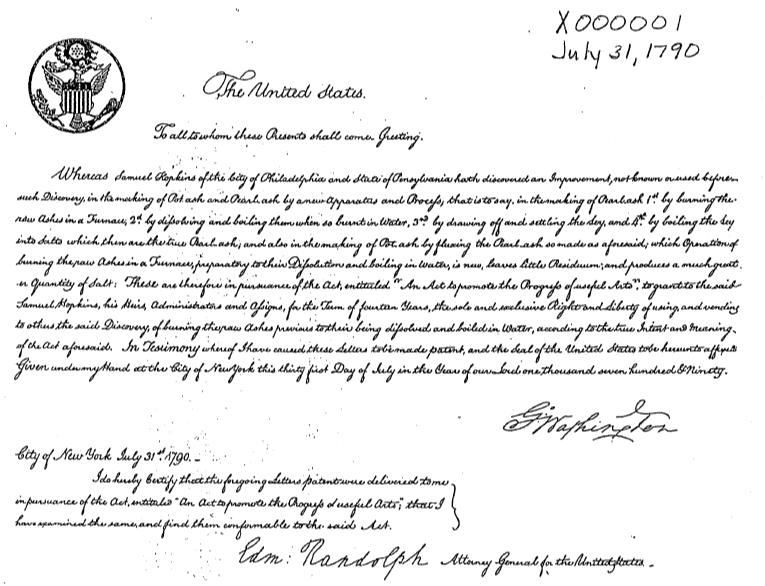 Das erste US Patent erhielt der Erfinder Samuel Hopkins am 31. Juli 1790 für eine Verbesserung "bei der Herstellung von Topfasche und Perlasche durch ein neues Gerät und Verfahren".
Das Patent mit der Nr. 1 vergab man jedoch erst 46 Jahre später am 13. Juli 1836. Denn am 4. Juli 1836 wurde mit dem "Patent Act" das alte Patentregistrierungssystem abgeschafft und ein neues Überprüfungssystem eingeführt, das auf den Prinzipien der "Neuheit" und der "Nicht-Offensichtlichkeit" beruhen sollte.
Seit dem Patent Nr.1 können wir zehn Zeiträume beobachten, in denen jeweils die nächsten eine Million Patente vom USPTO erteilt wurden. Die Dauer bis zum Erreichen des nächsten Meilensteins wurde im Verlauf der Zeit erwartungsgemäß kürzer – mit Ausnahme der letzten Million (und der dritten Million). Denn vom Patent Nr. 9 000 000 bis zum Patent Nr. 10 000 000 hat es 5 Jahre gebraucht – und damit mehr als doppelt so lange wie zwischen der "schnellsten Million" von 2011 bis 2013. Das heißt, dass in den letzten Jahren entweder weniger Patente angemeldet wurden, oder sich der Überprüfungs- und Erteilungsprozess verlangsamt hat.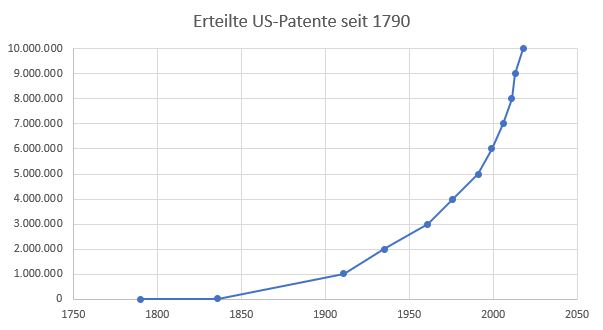 Die "Meilenstein Patente" im Überblick
8. August 1911 –  US Patent Nr. 1 000 000 
Vehicle-Tire – "Non-inflatable or solid tyres characterised by means for increasing resiliency"
30. April 1935 – US Patent Nr. 2 000 000
Vehicle wheel construction – "Wheels characterised by rail-engaging elements with elastic tyres"
12. September 1961 – US Patent Nr. 3 000 000
Automatic reading system – "Recognition of characters printed with magnetic ink"
28. Dezember 1976 – US Patent Nr. 4 000 000
Process for recycling asphalt-aggregate compositions
19. März 1991 – US Patent Nr. 5 000 000
Ethanol production by Escherichia coli strains co-expressing Zymomonas PDC and ADH genes
7. Dezember 1999 – US Patent Nr. 6 000 000
Extendible method and apparatus for synchronizing multiple files on two different computer systems
14. Februar 2006 – US Patent Nr. 7 000 000
16. August 2011 – US Patent Nr. 8 000 000
12. März 2013 – US Patent Nr. 9 000 000
19. Juni 2018 – US Patent Nr. 10 000 000
Coherent ladar using intra-pixel quadrature detection
Benötigen auch Sie Unterstützung beim Sichern Ihrer Patentrechte?
Jeder Fall wird von uns individuell und sorgfältig betrachtet. Nutzen Sie doch noch heute einen unverbindlichen Rückruf-Termin mit uns!

Quellen:
Bilder: nowa /wikipedia.org / gemeinfrei
Diagramm: Eigene Darstellung