Die Patent- und Rechtsanwaltskanzlei Dr. Meyer-Dulheuer & Partners LLP ist Gewinner des 2017 CorporateLiveWire Global Awards in der Kategorie: IP Anwaltskanzlei des Jahres in Deutschland. Es ist eine Ehre für unsere Anwälte, als eine führende Kanzlei für IP Recht international ausgezeichnet zu sein, und bestätigt unsere Reputation in Arbeitnehmererfindung, Marken- und Designrecht und Marken- und Produkt Piraterie.
Als IP Anwaltskanzlei für geistiges Eigentum (Intellectual Property / IP) steht man vor vielen Herausforderungen, es gibt so viele individuelle Kriterien und so zahlreiche nationale wie auch internationale Bestimmungen, dass nahezu jeden Fall einzigartig ist. Aber mit unseren Fachkenntnissen und unserer Erfahrung haben wir im IP Recht eine Reputation aufgebaut. Wir sind bekannt als Rechtsexperten und als eine erfahrene IP Anwaltskanzlei, die auch mal über normales Engagement hinausgeht, um für Ihre Kunden und deren Rechtsfälle rund um Marken- und Designrechtsverletzungen ein bestmögliches Urteil zu erwirken. Umso mehr freuen wir uns, durch den CorporateLiveWire Global Award als IP Anwaltskanzlei des Jahres in Deutschland ausgezeichnet geworden zu sein.
"Die Gewinner des Corporate LiveWire haben Erstklassigkeit bewiesen und zeigten große Motivation, in ihrem Bereich fantastische Ergebnisse zu erzielen. Wir freuen uns darauf, mit den Gewinnern in 2017 und darüber hinaus zu arbeiten."(Zitat: Jake Powers, Director of the 2017 Global Awards Guide)
Der Corporate LiveWire IP Legal Award zeichnet weltweit Anwaltskanzleien aus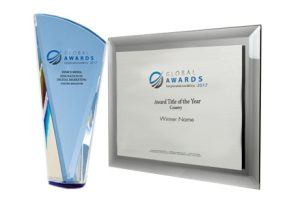 Der Corporate LiveWire Legal Award zeichnet Erfolge und Leistungen innerhalb der globalen Gemeinschaft der Rechtsanwälte aus. Das Jurorenteam berücksichtigt die Erfahrung und Spezialisierung der Anwaltskanzleien, den Kundenbestand und die Erfahrung, die durch die Vertretung dieser Kunden erreicht werden konnte. Ebenso zählen auch bemerkenswerte Ergebnisse oder außergewöhnliche Rechtsfälle. Alle Gewinner wurden jetzt offiziell benannt und sind seit dem 3. September in einem besonderen Award Guide veröffentlicht.
"Zusätzlich zu unserem normalen Fokus auf Geschäfts- und Unternehmensgewinner, haben wir auch unseren Blick auf die besten Köpfe für Recht in der Welt Ausschau gehalten…
Reputation und Prestige ist kein notwendiger Bestandteil, der in unserer Jury erfüllt sein muss, wir berücksichtigen auch einige bemerkenswerte Firmen und Anwälte, die außergewöhnliche Ergebnisse in ihrem Bereich erzielt haben, obwohl sie international keine klangvollen Namen haben."(Zitat: James Drakeford, Editor in Chief of the 2017 Global Awards Guide)
Über die IP Anwaltskanzlei Dr. Meyer-Dulheuer & Partners LLP
Dr. Meyer-Dulheuer & Partners LLP ist eine im Stadtzentrum von Frankfurt am Main (Deutschland) ansässige, mehrfach ausgezeichnete Patent- und Rechtsanwaltskanzlei.
Sie ist auf sämtlichen Gebieten des gewerblichen Rechtsschutzes erfolgreich für ihre nationale und internationale Mandantschaft tätig. Rechts- und Patentanwälte mit einer breit gefächerten Palette an Spezialgebieten sichern den Mandanten einen sachlich wie rechtsfachlich kompetenten Ansprechpartner. In den vergangenen Monaten wurden wir bereits mehrfach ausgezeichnet als Anwaltskanzlei für Patent- und Markenrecht und gewerblichen Rechtsschutz:
Quelle: