The Madrid Yearly Review provides an overview of the use, performance and developments of the Madrid system. It includes comprehensive facts, figures and analysis of the international registration of marks. In our article we give you an overview of the most important facts. A few days ago the World Intellectual Property Office (WIPO) released their yearly Review for 2015 regarding the International Registration of Marks. To give you the Key Numbers of 2015:
| | | |
| --- | --- | --- |
| Description | Number | Growth |
| | | |
| International applications | 48.910 | (+) 0,9% |
| Designations in international applications | 331.834 | (-) 0,4% |
| International registrations | 51.938 | (+) 22,4% |
| Subsequent designations in international registrations | 44.209 | (-) 3,8% |
| Renewals of international registrations | 28.596 | (+) 9% |
| Active (in force) international registrations | 623.482 | (+) 2,7% |
| Active designations in international registrations | 5.657.616 | (+) 0,2% |
| Share of Madrid designations in total non-resident trademark filing activity (for Madrid members only) | 58,60% | (-) 0,6% |
| Contracting Parties (Madrid members) | 97 | (+3) members |
| Countries covered | 113 | (+3) countries |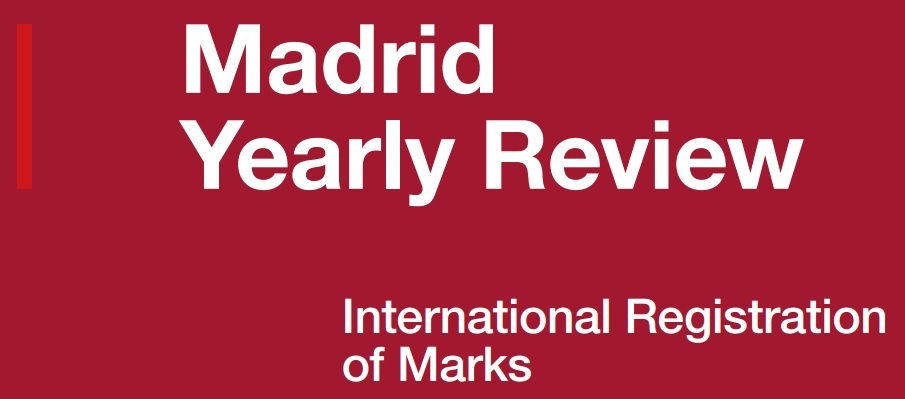 Highlights in this year's Madrid Review
International trademark applications continued to climb
International trademark applications filed under the WIPO-administered Madrid System reached yet another record of 48,910 in 2015, representing 0.9% growth on 2014 and marking the sixth year of continuous growth.
The Madrid System added three new members
Continuing to increase its geographical scope, the countries of Cambodia, Gambia and Lao People's Democratic Republic joined the Madrid System, bringing total membership to 97. With these accessions, the Madrid System now offers trademark holders the ability to obtain protection for their branded products and services in an area covering a total of 113 countries.
For the second year in a row, the United States of America (U.S.) was the largest user of the Madrid System
With double-digit growth of 11.2%, international applications from the U.S. reached 7,361, securing its top spot for the second year running. Germany (6,759) and France (4,143) were the second and third largest origins of Madrid applications.
Growth was mixed for the top countries of origin
Among the top 20 origins, Australia (+24.7%), Luxembourg (+30%), the Republic of Korea (+43.3%) and Singapore (+51%) saw the highest growth in the number of international applications filed in 2015. In contrast, China (-30.8%) and the Russian Federation (-23.5%) experienced considerable decreases.
Madrid member offices received the bulk of their non-resident filing activity via the Madrid System
Collectively, close to 60% of applications received by all Madrid member offices from abroad arrive via the Madrid System.
Pharmaceutical company Novartis remains the largest applicant
For the fifth consecutive year, Swiss pharmaceutical company Novartis heads the list of top filers, with 193 applications in 2015. It was followed by Germany's Lidl supermarket chain (142) and French cosmetic company L'Oréal (130). Among the top 60 applicants, pharmaceutical and biotechnology company Gedeon Richter (Hungarian: Richter Gedeon Nyrt.) saw the largest growth in applications in 2015 (+112 additional filings).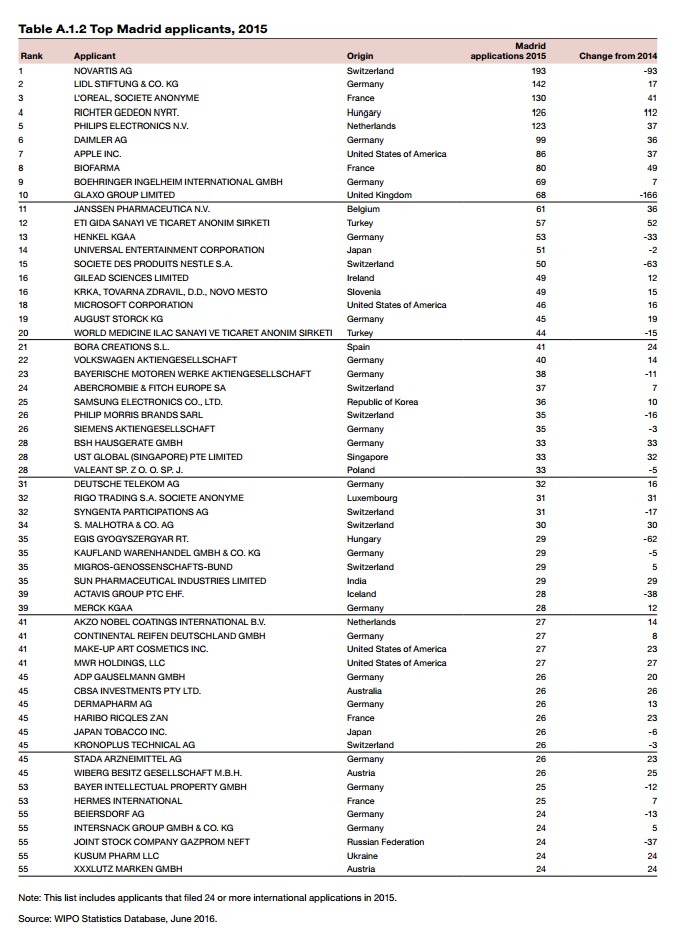 China remains the most designated country in international applications and registrations
China (21,087 designations) is the most designated Madrid member in international applications, followed by the European Union (19,352), the U.S. (19,248), the Russian Federation (14,805) and Japan (13,533). China (2,154) also received the highest number of subsequent designations in international registrations. It was followed by the U.S. (1,750), the Republic of Korea (1,570) and Mexico (1,548).
Marks related to computer hardware and software continued to account for the largest share of total applications
For more than a decade, the most specified class according to the Nice Classification has been Class 9, which includes computer hardware and software. Class 9 accounted for 9.4% of all international applications; it was followed by Class 35 (8%), which covers services such as office functions, advertising and business management; Class 42 (5.9%), which includes services provided by, for example, scientific, industrial or technological engineering and computer specialists; Class 41 (4.8%), which mainly covers services in the area of education, training, entertainment, sporting and cultural activities; and Class 25 (4.6%), which includes clothing.
The research and technology sector attracted the highest share of trademark protection via the Madrid System
Scientific research, and information and communication technologies (research and technology), which includes goods Class 9, is the industry sector that accounted for the highest share (19.1%) of all filing activity via the Madrid System in 2015, up two percentage points on its 2005 share.
The service industry continued to increase its overall share of international applications
One-third of all classes specified in international applications were for services – an increase of about five percentage points on the share recorded in 2005.
Renewals continued to grow steadily
Renewals of international registrations approached 30,000, up 9% on 2014. Similar to 2014, holders of international registrations originating in Germany renewed the highest number of registrations (6,912) in 2015, followed by those in France (4,317), Switzerland (3,071), Italy (2,454) and the U.S. (1,529). Together, these top five origins accounted for 64% of the 2015 total.
Active international registrations exceed 600,000
In 2015, approximately 623,000 international registrations were active, that is, in force. The number of active Madrid registrations has grown steadily year by year, increasing from about 331,000 in 1996.
The total number of registrations in force grew by 2.7% in 2015. These approximately 623,000 international registrations contained almost 5.66 million active designations and were owned by about 221,000 right holders.
A majority (63.6%) of firms or individuals holding an active international registration possessed only a single such registration in their 2015 portfolios – a situation that has remained almost unchanged since 2012. Another 16.7% of holders owned only two active registrations. Overall, about 90% of all holders of active registrations held four or fewer registrations in their portfolios, and 95% owned no more than seven active registrations.
Source:
Madrid Yearly Review 2016 Release (.PDF)