In the field of robots and human-machine communication there is a lot of dynamism. The BPatG rejected a sensitive mobile robot that distances itself from humans in the event of signs of stress as not patentable due to lack of inventive step. For an expert, this patent claim was obvious.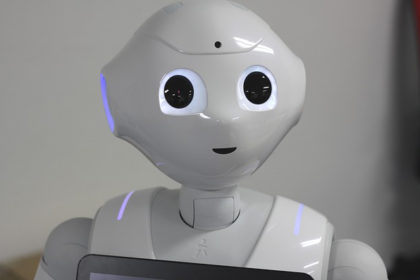 Robots are not only in demand as industrial robots, but increasingly also as mobile robots in interaction with humans, for example as service providers for care or household, and also as teaching robots. So far, however, instructions and directives in the field of human-machine communication have predominantly taken place in one direction, namely by the human being who programs the machine.
Sensitive mobile robot reacts to human stress
In the opposite direction, where a mobile robot teaches humans, there are hardly any concrete projects so far. Human discomfort can play a role, and robots can develop a life of their own superior to that of humans. But it is also due to the fact that a robot as a mobile motion machine can only perceive humans incompletely. A robot is to a certain extent insensitive.
The patent "Process for human-machine communication with regard to robots" should therefore help a mobile robot to cooperate better with a human being. A sensitive mobile robot should be created by evaluating human stress parameters and, depending on this, distancing itself from the human being.
The Federal Patent Court rejected this patent application as not patentable due to lack of inventive step. For an expert, the procedure described in the patent was obvious by merging two already known publications.
Two publications suggested the procedure
Publication D3 (US 2016/0098592 A1) describes a system and procedure for the detection of hidden human emotions by optical detection of changes in hemoglobin concentration via the human skin and their correlation with human stress parameters. D3 also provides for a robot reaction to these human emotions. The brochure provides for several axes of motion (X,Y,Z), whereby movements of the motion automaton are programmable and sensor-controlled with regard to a sequence of movements, paths and/or angles.
Therefore, only one feature of claim 1 from the patent application remains, according to which the mobile robot executes movements to increase a spatial distance to the person depending on the measured stress parameters, explained the BPatG. This characteristic, however, is part of the specialist knowledge of a specialist according to publication D7.
D7 (DE 103 20 343 B4) describes procedures for monitored cooperation between a mobile robot and a human being. In D7 it is also explained that humans assess their own safety in particular as a function of the distance to the robot and that it is therefore advantageous to regulate the respective distance between robot and humans as a function of the behaviour of humans.
Are you interested in patentability of robots?
Then you would also like to read our article: Robot Simulation patentable?
Moving away is a general characteristic of mobile robots
The patent applicant asserted that robots usually had an emergency stop when safety was threatened and for safety reasons did not move backwards but stopped. In addition, D7 does not state that the distance between robot and human being is dependent on stress factors of the robot.
But the BPatG rejected this objection. According to the doctrine of patent claim 1, the robot moves away from the operator. How the robot moves away from the operator, however, is not part of the procedure claimed, the court explained, i.e. it can move away laterally or after a 180° rotation. And all mobile robots can move away, which is a general characteristic of mobile robots.
And since D7 provides for the distance between the mobile robot and the human being to be adjusted depending on the emotions of the human being, a greater distance is obvious in the case of discomfort and stress of the human being.
The procedure described in the patent in claim 1 is therefore suggested to the specialist on the basis of publication D3 and the specialist knowledge proven by publication D7 and is therefore not patentable due to a lack of inventive activity.
Do you need assistance in protecting or defending a patent?
Our attorneys have many years of expertise in German and international patent law and are authorized to represent you before any court in Germany as well as internationally.
If you are interested, please contact us.
Sources:
Judgement of German BPatG 23 W (pat) 1/19
Image: