Dr Tim Meyer-Dulheuer will again be named in the "IAM Patent 1000" list of the world's top 1000 patent attorneys in 2021 – this year with the additional special distinction of Dr Tim Meyer-Dulheuer as an outstanding patent attorney in "IAM Strategy 300 Global Leaders 2021".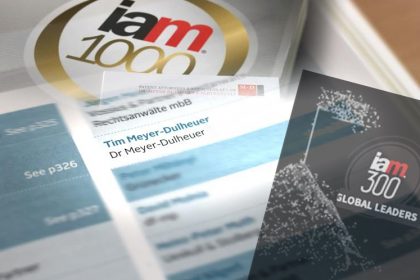 Dr Tim Meyer Dulheuer is again named in this year's "IAM Patent 1000" list of the world's 1000 best lawyers for patent law. This is the fifth time that our patent law firm Dr. Meyer-Dulheuer has been listed in the renowned directory. Every year, "IAM Patent 1000" selects the 1000 best lawyers, law firms and companies in the world in the field of patent law.
New for the first time this year 2021, the particularly distinguished patent law firms have been included in an additional directory "IAM Strategy 300 Global Leaders Guide".
According to the IAM editors, the IAM Strategy 300 Global Leaders Guide includes the specialists from the most important IP markets in North America, Europe and Asia, who – collectively – have a broad range of expertise in IP-intensive sectors such as high-tech and life sciences.
The recognition of Dr Tim Meyer-Dulheuer, patent attorney and owner of our law firm Dr Meyer-Dulheuer, as such an excellent patent attorney in the IAM Strategy 300 Global Leaders 2021 is a renewed confirmation of the engagement and work our law firm does every day.
"More and more hurdles are being put in front of patent owners overall," says Dr Tim Meyer-Dulheuer, and in this context also points to current trends such as anti-suit injunctions (ASI) as a weapon in FRAND and SEP litigation (also with regard to 5G). This makes it all the more important for patent owners to recognise and exploit every strategic advantage. Our IP law firm Meyer-Dulheuer offers relevant experience and specialisation.
We are very pleased about the recognition of our experienced (patent) attorneys and see our reputation and expertise in national as well as international patent law, employee invention, trademark and product piracy as well as licensing law confirmed.
As a patent and law firm in the heart of Europe, we have special expertise for Germany and Europe, with particular sensitivity and knowledge of the particularities of the EU member states in the field of IP law, especially in patent law also of the EPC contracting states.
In addition, we have many years of experience and language and country knowledge in our law firm team with regard to China and Chinese patent, design and trademark law.
Excellent advice on IP protection
Would you like to protect your company name, your product or your invention effectively and sustainably? Please contact us.

Sources: 
IAM Strategy 300 Global Leaders 2021
Image: our own design