Best wishes to you! Merry Christmas and a Happy New Year!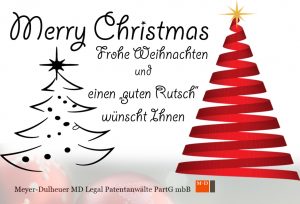 Notes on public holidays: DPMA and CNIPA
The entire team of our patent and law firm Meyer-Dulheuer wishes you and your family Happy Holidays! Moreover, we like to give you some more information on the holidays with regard to some of the trade mark and patent offices.
Germany: DPMA
Since 1 May 2022, the uniform public holiday regulation applies to all DPMA locations:
All public holidays that apply at at least one of the DPMA's places of business will be recognised as extending the time limit, irrespective of the place where the act required to meet the time limit is actually performed (§ 18a DPMAV).
Acts and declarations required to meet a time limit can be performed at all three DPMA locations in Munich, Jena and Berlin.
Please note that Christmas Eve and New Year's Eve are not public holidays and this year both fall on a Friday, i.e. on a working day. For this year 2021, this means with regard to the DPMA that the end of the time limit, should it fall on Christmas Eve or New Year's Eve, will not be postponed.
Applications, oppositions, objections and other postal items can be sent to the DPMA by fax or handed in at the DPMA gate in Munich even at the turn of the year. In addition, postings to the night mailboxes in Jena and Berlin will be taken into account.
EUIPO
The European Trade Mark Office will be closed from 23 December 2021 (Thursday) to 1 January 2022 (Saturday) 2022 for public holidays. The first weekday opening day will therefore be 3 January 2022.
In addition, the EUIPO will also be closed on Monday, 6 January ("Epiphany" holiday, public holiday in the German states of Bavaria, Baden-Württemberg and Saxony-Anhalt).
China: CNIPA
The National Intellectual Property Office (CNIPA), the Trademark Office and the courts in China will be closed from 1 January (Friday) to 6 January (Sunday) 2022 for the New Year holidays.
Deadlines for all patent and trade mark matters falling within the above period have been postponed to the first working day after the holidays, i.e. Monday 7 January 2022.
Our IP law firm
Our IP law firm is on holiday from 24 December to 2 January. We thank you for the good cooperation this year and will be happy to be there for you again next year 2022.
Merry Christmas and a "Happy New Year"! And of course – stay healthy!