The patent and law firm Dr. Meyer-Dulheuer will move to its new premises in Frankfurt's Westhafen on 17 January 2022. The new address is Torhaus Westhafen, 60327 Frankfurt am Main.
It's like innovation: if you're satisfied with what you've achieved, you won't move forward. With this in mind, we are looking forward to the upcoming relocation of our law firm. We are excited about the new central location of our law firm in the Westhafen district of Frankfurt am Main.
Westhafen Quarter in Frankfurt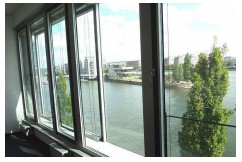 The Westhafen area in Frankfurt/Main has developed into a trendy district in recent years.
The mixture of old and new that is typical of Frankfurt is tangible here. To the east, the striking Westhafen Tower (better known in Frankfurt as "Geripptes"… a reference to the Hessian cult drink apple wine (german: Apfelwein)) has been standing since 2003. To the west stands the historic Druckwasserwerk, equally striking.
Views on the River Main, modern office buildings, stylish bars and cafés and the proximity to Frankfurt's main railway station (Hauptbahnhof) round off this popular trendy district.
Here you will find our new office premises. The law firm Meyer-Dulheuer will move to the new premises in the Torhaus Westhafen on 17.01.2022.
The new address of our office is: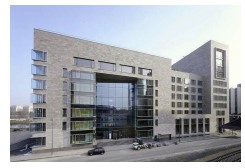 Torhaus Westhafen
Speicherstrasse 59
60327 Frankfurt am Main
Nothing will change on the phone, by e-mail and fax and with regard to our legal-patent.com domain. You can still reach us at the existing numbers and addresses. Only in correspondence please note our new address in the Torhaus Westhafen – from Monday, 17 January 2022.
Patent and Law Office Dr. Meyer-Dulheuer
Our law firm Dr. Meyer-Dulheuer is a multi-award-winning patent and law firm based in Frankfurt am Main. Our attorneys-at-law and patent attorneys with a broad range of specialisations ensure that clients have a contact person who is competent in both factual and legal matters.
We are happy to provide legal representation and advice in the field of intellectual property. Our lawyers have many years of expertise in the entire field of intellectual property and are entitled to represent you before any court – in Germany and internationally.
Please contact us if you have any questions.