The European Union Intellectual Property Office (EUIPO) has released its latest issue of the "Alicante News". The February edition focuses on the Anti-Fraud (Anti Scam) Network meeting at EUIPO on February 28th. Read more about it in our article.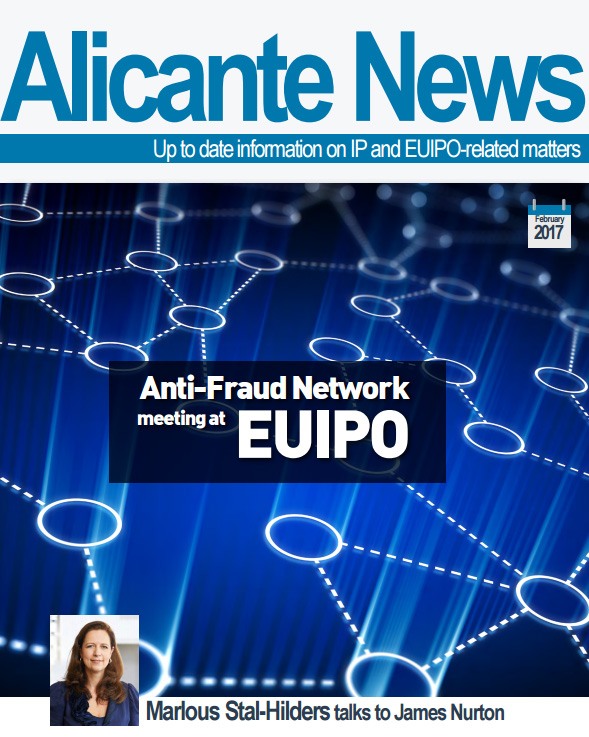 On February 28, EUIPO organised the second Anti-Fraud (Anti-Scam) Network meeting, to share best practices among stakeholders with a view to addressing the practical difficulties in the fight against misleading invoices.
The Anti-Fraud (Anti-Scam) Network activities are undertaken in collaboration with EU national and regional IP offices, user associations, the European Patent Office (EPO) and the World Intellectual Property Office (WIPO), along with Europol, the European Union's law enforcement agency.
The network covers four areas: IT measures; communication; legal action and cooperation, and is part of EUIPO's commitment to protect its users against fraudulent activities, in collaboration with enforcement authorities, partner IP offices and user associations.
In common with other IP offices, EUIPO works to alert its users to the problem of misleading invoices. EUIPO reminds its users never to pay until they have checked that the source is official, and that the Office never sends invoices or letters requesting direct payment to users.
The Office's dedicated web page contains samples of misleading invoices sent to it by users; when a new misleading invoice is passed on to the Office, it is republished there.
If users receive any communications that give rise to doubts, they are kindly asked to check with their legal advisers or to contact the Office. EUIPO currently works at several levels to help protect users from fraud.
January-Statistics: 2017 may become a good year for EU Trade Marks and Community Designs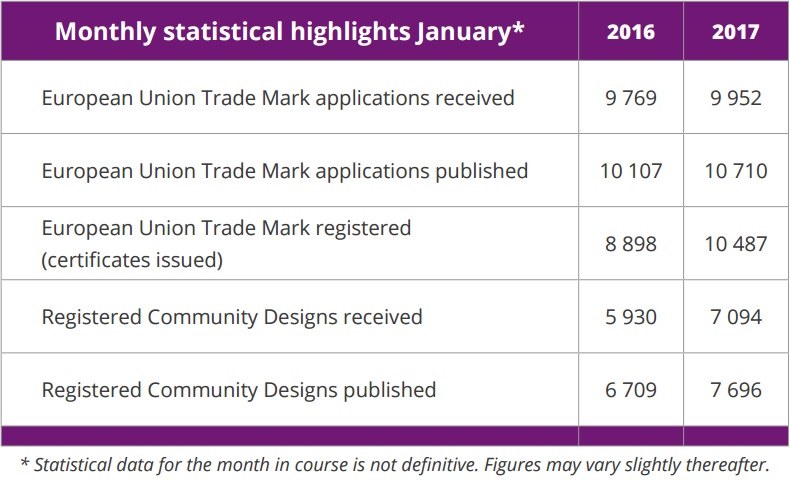 Overview: Topics in Alicante News February 2017
Anti-Fraud Network meeting at EUIPO
James Nurton Interviews: Marlous Stal-Hilders (managing partner, NLO Shieldmark)
Lack of precision of the RCD representation regarding the subject matter of protection sought
Statistical Highlights: January 2017 (European Union Trade Mark + Registered Community Designs)
15 Fully-Funded PhD Positions under the EIPIN-Innovation Society Programme ITN/EJD Marie SkƗodowska-Curie Project
Study: €1.3 billion lost every year across the EU due to fake pesticides
2017 Work Programme: EUIPO's priorities for 2017
Case Law: Luxembourg trade mark and design news
Case Law: New decisions from the Boards of Appeal
About Alicante News
ALICANTE NEWS is edited by EUIPO and published on the first working day of every month. The aim is to provide up-to-date information on EUIPO-related matters, as well as on other general IP issues, to the users of the European Union trade mark and design registration systems.
The EUTM and RCD sections publish articles produced by EUIPO's Knowledge Circles and analyse the latest issues relating to trade mark and design case law. The Case Law section gives a monthly rundown of cases brought before the Courts in Luxembourg and the Boards of Appeal.
Source: EUIPO Press Release