The Global Innovation Index ("GII") 2017 has been published! The GII provides detailed metrics about the innovation performance of 127 countries and economies around the world, creating a Ranking that is based on 81 indicators, capturing criteria such as institutions, human capital and research, infrastructure, linkages, the creation of knowledge, and creative outputs. When looking at the Rankings Switzerland stays strong, placing 1st again. Netherlands makes a huge comeback to place in the Top 3! All information in our article:
Now in its 10th edition, the GII 2017 focuses on innovation in agriculture and food systems. In the coming decades, the agriculture and food sector will face an enormous rise in global demand, increased competition for limited natural resources, and the effects of climate change. Innovation is key to sustaining the productivity growth required to meet this rising demand and to helping enhance the networks ("food systems") that integrate sustainable food production, processing, distribution, consumption, and waste management.
As one example, the GII 2017 highlights the role of India which is ranks 1st in its region (despite placing 60th in the Global Ranking). India has outperformed on innovation relative to its level of development for many years. It scores highly in particular innovation inputs and output variables too.
Video: Global Innovation Index 2017 – Innovation Feeding the World
"Innovation is the engine of economic growth in an increasingly knowledge-based global economy, but more investment is needed to help boost human creativity and economic output," said WIPO Director General Francis Gurry. "Innovation can help transform the current economic upswing into longer-term growth."
GII 2017: Regional Top-Ranking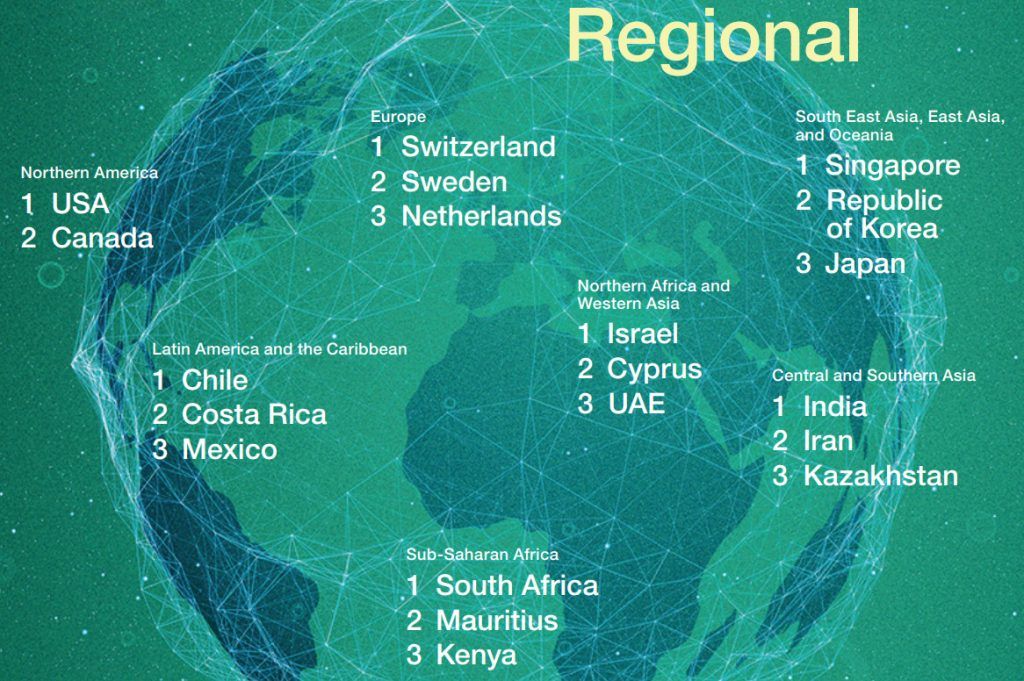 GII 2017: Global Ranking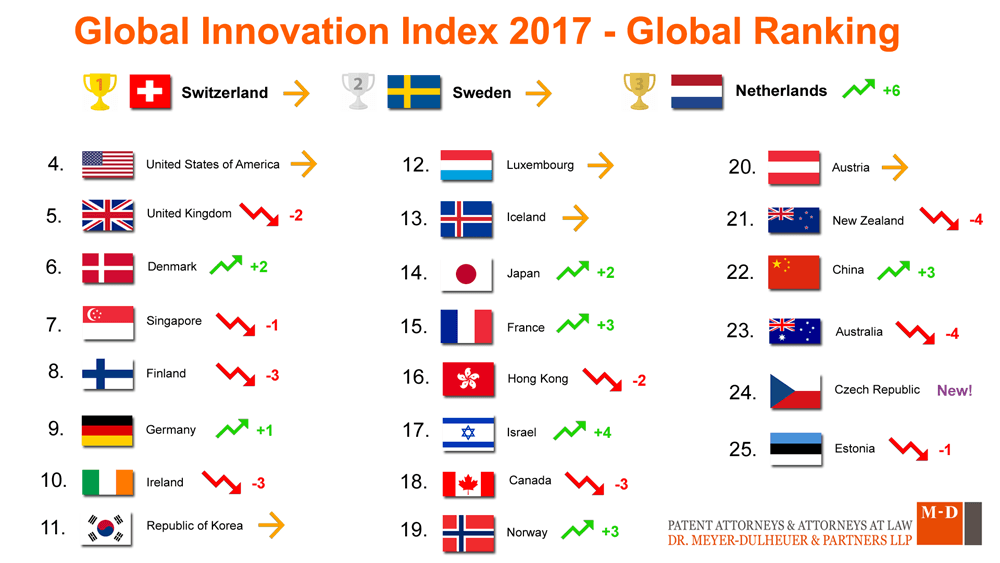 (Click to enlarge)
SWITZERLAND (placed 1st in 2016)
SWEDEN (placed 2nd in 2016)
NETHERLANDS (placed 9th in 2016)
United States of America (placed 4th in 2016)
United Kingdom (placed 3rd in 2016)
Denmark (placed 8th in 2016)
Singapore (placed 6th in 2016)
Finland (placed 5th in 2016)
Germany (placed 10th in 2016)
Ireland (placed 7th in 2016)
Republic of Korea (placed 11th in 2016)
Luxembourg (placed 12th in 2016)
Iceland (placed 13th in 2016)
Japan (placed 16th in 2016)
France (placed 18th in 2016)
Hong Kong (China) (placed 14th in 2016)
Israel (placed 21st in 2016)
Canada (placed 15th in 2016)
Norway (placed 22nd in 2016)
Austria (placed 20th in 2016)
New Zealand (placed 17th in 2016)
China (placed 25th in 2016)
Australia (placed 19th in 2016)
Czech Republic (placed 27th in 2016)
Estonia (placed 24th in 2016)
Global Innovation Index: Key findings in brief
The six key findings of the GII 2017 are:
 Creating new sources of innovationdriven growth is now vital to transforming the current economic upswing into the possibility of longerterm growth.
 Smart and digital agricultural innovation and better diffusion to developing countries are required to help overcome serious food challenges.
 More innovation convergence is needed globally, as low- and middleincome countries put more emphasison their innovation systems.
 The prospect of regional Asian innovation networks will also benefit from the rise of new Asian Innovation Tigers and India's high potential.
 Preserving the momentum of innovation in Sub-Saharan Africa and tapping the innovation potential in Latin America and the Caribbean must be priorities.
 Regional clusters of inventive activity are essential to national innovation performance; improved innovation metrics on this topic are required.
>> More Infos and a Conclusion here
Comparison: GII 2016 and GII 2017
About the Global Innovation Index

The Global Innovation Index 2017: Innovation Feeding the World is the result of a collaboration between Cornell University, INSEAD, and the World Intellectual Property Organization (WIPO) as co-publishers, and their Knowledge Partners. The report and any opinions expressed in this publication are the sole responsibility of the authors.
They do not purport to reflect the opinions or views of WIPO Member States or the WIPO Secretariat. The terms 'country', 'economy', and 'nation' as used in this report do not in all cases refer to a territorial entity that is a state as understood by international law and practice. The terms cover well-defined, geographically self-contained economic areas that may not be states but for which statistical data are maintained on a separate and independent basis.
Any boundaries and names shown and the designations used on any visual maps do not imply official endorsement or acceptance by any of the co-publishers. Chapters 2–11 contributions may deviate from UN terminology for countries and regions.
Source:
Text + Pictures: Official Press Release Global Innovation Index 2017