The European Union Intellectual Property Office (EUIPO) has released its last Issue of the Alicante News in 2017. This time's main topic: The new Common Communication Guide from the European Trade Mark and Design Network on the representation of new types of trade marks. Read more about this and get the latest statistic-information in our article.
Common Communication on the representation of new types of trade marks:
The elimination of the graphical representation requirement from the definition of EU and national trade marks is one of the key changes brought by Directive (EU) 2015/2436.
This provision paves the way for the acceptance of new types of trade mark and new means of representation.
Therefore, to ensure the transition to the new Directive is as smooth as possible for all stakeholders, the Intellectual Property Offices of the Member States of the EU, the EUIPO and the European Commission have been working together to develop a common initiative on the representation of new types of trade marks.
The result is a Common Communication, which gives a complete overview of the state of play of each Office's transposition process, showing:
• the types of trade mark each Office plans to accept;
• the definitions thereof;
• the accepted electronic file formats for sound, motion, multimedia and hologram marks.
The Common Communication also contains an Annex
After the first publication, the Communication will be updated on a six-monthly basis to reflect the developing positions of the Offices as they advance with the transposition process.
The first update is scheduled for the 1st of June 2018.
November-Statistic: Strong increase in European Union Trade Mark applications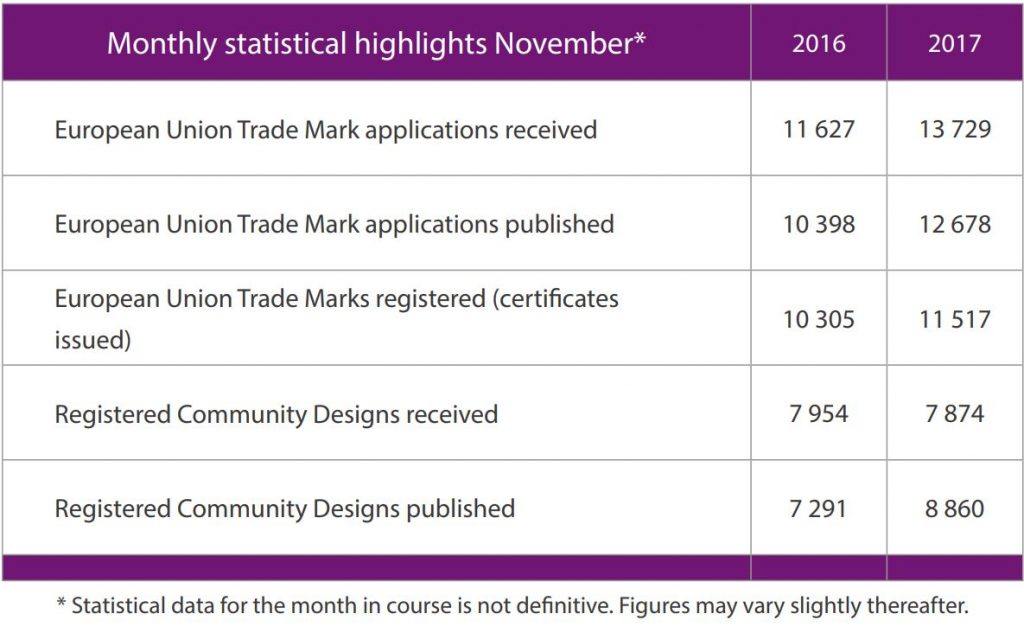 Overview: Topics in Alicante News December 2017
Cover-Story: Common Communication on the representation of new types of trademarks
James Nurton Interviews Andrea Lensing-Kramer
Statistical Highlights: November 2017
EUIPN Updates: Japan joins DesignView
More News: 1 January 2018: EUTM applications and renewals by fax
More News: Annual User Satisfaction Survey: January
More News: IP Case Law Conference
Case Law: Luxembourg trade mark and design news
Case Law: New decisions from the Boards of Appeal
About Alicante News
ALICANTE NEWS is edited by EUIPO and published on the first working day of every month. The aim is to provide up-to-date information on EUIPO-related matters, as well as on other general IP issues, to the users of the European Union trade mark and design registration systems.
The EUTM and RCD sections publish articles produced by EUIPO's Knowledge Circles and analyse the latest issues relating to trade mark and design case law. The Case Law section gives a monthly rundown of cases brought before the Courts in Luxembourg and the Boards of Appeal.
Source:
Text + Graphics: Official Alicante News December 2017 PDF