The patent and law firm Meyer-Dulheuer MD Legal Patentanwälte PartG mbB is the winner of the 2020 Corporate INTL Global Award in the category: Patent Attorneys of the Year – Germany.
We are very pleased about the recognition of our experienced attorneys and see our reputation and expertise in national and international patent law, employee invention, trademark and product piracy as well as licensing law confirmed.
Our patent and law firm Meyer-Dulheuer MD Legal Patentanwälte PartG mbB offers a wide range of services in the entire IP field, in particular with regard to patents as well as trademarks and design rights in Europe and Asia. As a patent and law firm located in the heart of Europe, we have special expertise for Germany and Europe, with particular sensitivity and knowledge of the particularities of the EU member states in the field of IP law, especially in patent law.
We are therefore all the more pleased to have been named "Patent Attorneys of the Year – Germany" for the year 2020 by the Corporate INTL Global Awards.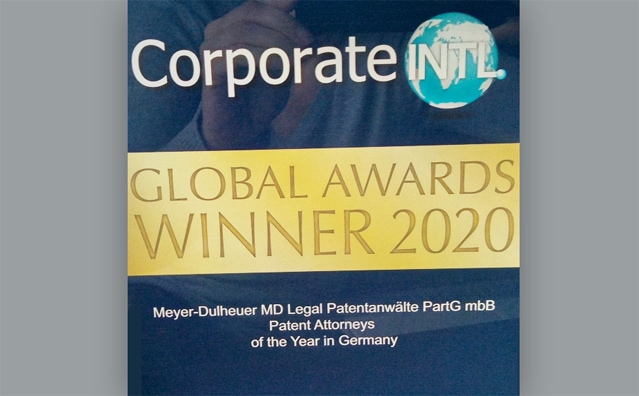 The Corporate INTL Global Award
The Corporate INTL Global Award honors IP law firms worldwide within the global community of patent attorneys and attorneys-at-law for success and performance. The jury team conducts extensive reviews and has access to a proprietary database of over 300,000 individual law firm partners and over 250,000 CFOs, CEOs and directors of public and private companies around the world.
The experience and specialization of the respective law firms, as well as extraordinary legal cases and special successes in court are taken into account in selecting the annual winners of the Global Award. With the multitude of tasks for an IP attorney, ranging from researching and assessing protectability, to applying for intellectual property rights, to enforcing and defending them, IP attorneys must be up-to-date with the latest business and innovation trends and have an understanding and appreciation of creativity, the Corporate INTL Global Awards highlights the achievements of IP law firms.
We can only agree with this assessment. No matter whether you apply to us as an individual applicant, work in a medium-sized business or belong to a major international company – all our lawyers always do their best to fully protect and enforce your intellectual property. Nationally and also Europe-wide and worldwide! Please do not hesitate to contact us.