The German Federal Supreme Court confirms German trademark protection for the "Hohenloher pig" – as a collective mark. This has effect for all collective marks, because even if a product is not protectable as a European protected geographical indication like g.t.A. , it can be protected as a German collective mark.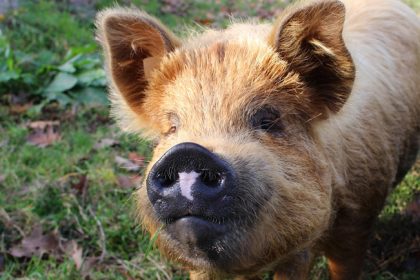 Indeed, the BGH says with its judgement (judgement of 29.07.2021, ref. I ZR 163/19) that national protection for collective marks applies in parallel and independently of the provisions of European law. An interesting judgement, not only with regard to collective marks.
Different requirements for collective marks in DE and EU
The background to this trademark dispute about the "Hohenloher pig" is based on the different requirements for collective geographical protection in the EU and in Germany.
Basically, the EU provides for three different quality marks for regional specialities, which are mainly oriented towards the geographically bound or traditionally geographically attached production steps:
Protected Designation of Origin
Protected geographical indication (g.t.A.)
Traditional speciality guaranteed
In addition, the EU protection system also covers designations of origin from countries that are not members of the EU if they are also protected in their country of origin. For more information on EU collective marks, please read here: EU designation of origin: Dresdner Christstollen also protected internationally?
Under German trademark law, in turn, goods can be protected as collective marks if they are distinguishable from products of other companies because of their geographical origin and if they have a special quality (see above all § 127 MarkenG).
Producers' association: German collective trademark for Hohenloher Landschwein
This is precisely what the Bäuerliche Erzeugergemeinschaft Schwäbisch Hall (in engl.: Schwäbisch Hall Farmers' Producers' Association) relies on for its labels "Hohenloher Landschwein" and "Hohenloher Weiderind". The protection of Hohenlohe livestock as so-called collective brands under German law is subject to strict specifications for feeding, keeping and slaughtering the animals, which are filed with the German Patent and Trademark Office. However, a butcher's shop in the region did not meet these requirements, but still used the Hohenlohe label. Therefore, the Schwäbisch Hall Farmers' Producers' Association took legal action against the butcher's shop. The producer association wanted to prohibit the butchery from using the "Hohenloher Landschwein" and "Hohenloher Weiderind" labels.
This was successful; the Stuttgart Higher Regional Court ruled in favour of the producer group in 2019. Yesterday, the appeals against the rulings were decided by the Federal Supreme Court. And the BGH rejected the butchery's appeals and confirmed the trademark protection for the collective trademark "Hohenloder Landschwein" and "Hohenloder Weiderind".
De facto, this means that only the farms of the Schwäbisch Hall producer association (around 1500 farms) are allowed to advertise with the "Hohenloder Landschwein" and "Hohenloder Weiderind" labels – and the producer association can actually prohibit the butchery from using these labels.
Conclusion
Both parties see the BGH ruling "Hohenloder Landschwein" as strengthening consumer protection. The producers' association sees the positive signal for the regional quality of the products, which has been practised there for decades. The losing butchery, on the other hand, sees above all an expansion of the monopoly position of producer associations. According to the butchery, strict quality criteria of the EU would no longer be observed if protection could be created much more easily and without such a quality connection via national law.
In any case, this BGH ruling means that even if a product cannot be protected as European "protected geographical indication", it may be protected as a German collective mark. This decision is therefore important for all producers of geographical products.
Are you also looking for protection for your product?
Our lawyers will advise you individually and develop the right strategy to protect your trademark together with you. We have many years of expertise in trade mark law as well as in the entire field of intellectual property and are entitled to represent you before any court – in Germany and also internationally.
Please contact us if you are interested.

Sources: 
Image: