The music streaming service Spotify won a trademark dispute in the USA over the app name POTIFY – an app for medicial Marijuana. Spotify successfully claimed that its own brand SPOTIFY was diluted by the app name POTIFY – which was allegedly inspired by Shopify and "pot".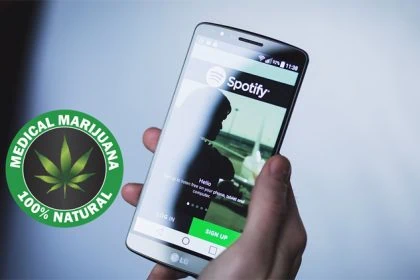 Such an accusation that one's own well-known brand name would be diluted by a later similar trademark application can be successfully asserted by those trademark owners who are considered very well-known or famous.
This was no problem at all for SPOTIFY in the case 'Spotify AB versus U.S. Software Inc.' before the TTAB (Opposition Nos. 91243297 and 91248487), in which the Swedes took action against the app name POTIFY, which had been applied for as a trademark for a cannabis app. The globally successful music streaming service from Sweden has been offering its services in the USA since 2011. Spotify proved before the Trademark Trial and Appeal Board (TTAB) that it has 23.3 million likes on Facebook, 5.3 million followers on Instagram and 1 million subscribers on YouTube.
The absolute peak of demonstrable notoriety and fame came in 2017: after President Obama said he wanted to work at Spotify after leaving office, the music streaming service advertised a job as "President of Playlists" in January 2017, for which only he would have been qualified. This marketing and promotional coup was a hit on social media; on Twitter it was the number one of so-called "trending moment".
Proof of awareness
A substantial part of the US population knows the SPOTIFY brand, this has been empirically proven: A large percentage of Americans are users or subscribers of SPOTIFY goods and services. And although the Swedish music streaming provider is now even more famous and well-known than before, it was already so in January 2017, when the POTIFY and POTIFY & Design brands were used for the first time for an app that can be used to order medical marijuana from corresponding dispensaries.
POTIFY – inspired by 'Pot' und 'Shopify'?
In the opposition proceedings against POTIFY, it was – unsurprisingly – found that the POTIFY marks were very similar to the SPOTIFY mark.
In vain, the applicant for the POTIFY mark argued that the trademark term POTIFY comes from 'pot', a common pseudonym for marijuana, and that the suffix '-IFY,' means that marijuana / pot can be found. In addition, he explained that the POTIFY platform wants to be like Shopify; Shopify is a stock listed Canadian e-commerce platform.
SPOTIFY – highly distinctive
But the TTAB rejected this argument. SPOTIFY was as famous as a trademark and had high distinctiveness.
Moreover, there was also no evidence that there were marks in the United States as close to SPOTIFY as the POTIFY mark. The TTAB considered it inevitable that POTIFY would be detrimental to SPOTIFY's distinctiveness.
Therefore, the TTAB upheld the opposition of the famous music streaming service, finding that the use of the POTIFY marks would likely dilute the SPOTIFY mark. Therefore, the trademark registration of the term POTIFY was refused.
Conclusion
It is true that when a trade mark application is filed, the trade mark offices check whether so-called absolute grounds for refusal prevent the registration of the trade mark applied for. In Europe, these include the lack of distinctive character and also the fact that a trade mark is purely descriptive – and since the last trade mark law modernisation (in Germany as MaMoG on 14 January 2019) also the fact that a geographical indication and protected geographical designation of origin as well as a protected variety denomination are infringed.
However, an office search as in patent law does not take place for trade mark registrations. A trade mark application should therefore always be only the first step towards protection, followed by a continuous trade mark search. World-famous companies in particular keep an eye on every new trade mark application through trade mark searches, even if the trade marks are less similar. For example, Apple successfully took action against the cooking app 'Prepear' – we reported.
Any questions about trademark protection?
Do you have questions regarding a trade mark application or trade mark defence?

Sources:
Spotify AB v U.S. Software Inc., TTAB (Opposition Nos. 91243297 and 91248487)
Image:
own design based on StockSnap | pixabay | CCO License and nneem | pixabay | CCO License