Christmas time is a time of delicacies. Nuremberg gingerbread, Aachener Printen, Lübeck marzipan and of course Dresden Christstollen sweeten the dark season, especially in Germany. These  German Christmas specialities can be found in a company with more than 1000 specialities from the EU. All are protected by the EU as designation of origin.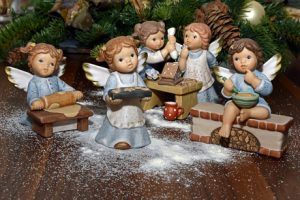 In principle, you will also find the cheese French Gruyère and Danish Esrom, English Cornish Pasty and Italian Aceto Balsamico as well as Frankfurt Green Sauce. Our overview summarizes the protection status of these products and the differences in the EU geographical indications.
In principle, the EU provides for three different quality labels for regional specialities:
Protected designation of origin (PDO)
Protected geographical indication (PGI)
Guaranteed traditional speciality (g.t.S.)
As early as 1992, these labels were introduced to protect and promote traditional and regional food products in EU. And indeed, some products have been registered under one of these quality marks for more than 20 years, including the Lübeck marzipan and Aachener Printen. The EU's protection system also includes designations of origin from countries that are not members of the EU, if they are protected in their country of origin.
Three labels in EU geographical designations
Most products can be found under the indication PDO. Although these products must also have been originally developed or produced in a certain region, it is sufficient for this label if at least one of the production steps takes place in the defined geographical area at present.
Irrespective of the geographical region, but marked by traditional production methods, the products are "Guaranteed traditional specialities" (g.t.s.). Here the production, but also the composition of the raw materials or the recipe can be passed on as knowledge over generations. This is because a period of time of at least 30 years applies to a traditional production method. Well-known products under this label are mozzarella and Serrano ham.
The criteria for the "Protected Designation of Origin" label are stricter. Not only the origin of these products refers to a certain region. The special qualities and characteristics are also achieved through traditional and regional processing. All production steps are therefore carried out in the original geographical area. In Germany, this quality label reaches the "Hay-milk" label, in the EU this label is reached by many classics such as Beurre d' Isigny and Huile d' olive de Haute-Provence from France, Arroz del Delta del Ebro from Spain, Tiroler Bergkäse from Austria and Prosciutto di Parma and Parmigiano Reggiano from Italy.
Legal regulations in the EU
The current legal basis is Regulation (EU) No 1151/2012 of the European Parliament and of the Council of 21 November 2012 on quality systems for Agricultural products and food. In addition, Regulations (EU) No 664/2014 and No 668/2014 shall apply. Therefore, anyone seeking secure protection for a speciality should consider not only registration as a geographical indication, but also registration as a national and/or international trademark.
In the case-law of the European Court of Justice (ECJ) it became clear in several judgments that the ECJ attributes the indications of origin to "intellectual property".  And indeed, a protected EU designation of origin may not be used for comparable products. However, this does not mean that the scope of protection of the trade mark and geographical indication is identical. In contrast to trademark law, the holder of an appellation of origin must be able to justify what constitutes the special quality of his product. And the deletion of a registered EU-designation of origin can be applied for if an individual is affected – or if the requirements of the original specification are no longer fulfilled.

EU Protection internationally respected outside the EU?
Are these quality marks also considered as protected products outside the EU? The Lisbon Convention on the Protection of Geographical Indications of Origin is just as relevant in this context as the Madrid Convention on the Suppression of False Indications of Origin on Goods. In fact, however, trade interests and trademark protection always overlap in the recognition of EU geographical designations, and there is plenty of room for negotiation.
The free trade agreement between the EU and Japan (FTA, JEFTA), which was agreed in December 2017, makes the international handling of EU geographical designation clear in practice. To date, in Japan, origin marking is mandatory for products intended for direct sale to consumers in Japan. These include foodstuffs, ingredients of raw or processed foods, meat, seafood, fruit and vegetables, but also tires, handbags, sporting goods and cosmetics. It is therefore not surprising that the EU geographical designations are also mentioned in the free trade agreement JEFTA. According to information provided by the FAZ on 9 December 2017, approximately 200 of the more than 1000 European specialities protected under the agreement will receive special protection in Japan. And this will please all friends of Christmas delicacies: according to FAZ protection in Japan will also apply to Lübeck marzipan.
Are you interested in brand or trade mark protection?
Please take your chance and contact us. Our lawyers are experienced in trademark and patent law, national and international law.

Sources:
Verordnung Nr. 664/2014 der EU Kommission, Ergänzung zu Verordnung (EU) Nr. 1151/2012
pictures:
Couleur /pixabay.com / CCO License  || annca /pixabay.com / CCO License  || EU geographical designations