Banksy has always advocated against commercial use of his artwork. But in recent years he applied for European trademarks on his famous works. Only at first sight this is a contradiction, but in any case in vain: the EUIPO decided on trademark cancellation against Banksy trademarks.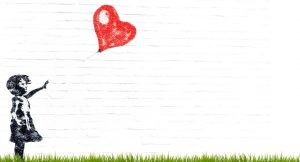 Banksy is an artist who has become famous in the United Kingdom (UK) and who creates new graffiti artworks in public places worldwide and at irregular intervals. Banksy is world famous with his graffiti artworks. For one thing, the artworks are created overnight, the locations are not always distinguished by special features beforehand – but they also become true visitor magnets overnight.
Anonymity as a "main character"
Above all, Banksy has created a certain myth around himself, because he has remained anonymous to this day. There is speculation about his identity, but nothing more.
At the same time, anonymity as a main character is a problem if one wants to be not only a street artist who inspires with his graffiti artworks, but if the artist Banksy wants to be noticed beyond that or even profit commercially from his success.
In fact, Banksy always shows himself in his works as a political or socio-political activist, and even beyond the artworks, he has already published so many epigrams or statements that a separate book was even published about them in 2006: "Wall and Piece". Among other things, Banksy had declared in it that copyright was something for losers; the public was morally and legally free to use copyrighted works. Nevertheless, in recent years, European trademarks have been registered on his famous works – an attempt to protect his works against unauthorised commercial use through trademark protection.
Property rights and remain anonymous?
Here, however, a practical problem arises due to Banksy's anonymity: both copyright protection and trademark protection require a real creator or a trademark applicant to exercise the property rights. With regard to copyright protection, no one can do this on Banksy's behalf, because copyright protection and copyrights arise automatically with the creation of the work and exclusively for the creator – regardless of registration. Only Banksy could therefore claim copyright to the Banksy works, but he would basically have to end his anonymity to do so.
Moreover, Banksy would not necessarily be able to enforce copyrights to his works securely anyway. After all, a street graffiti that is applied without the express permission of the property owner could also be interpreted as a gift of all copyrights to the owner of the property. In any case, copyrights could also be waived by the fact that Banksy graffiti is usually placed in public places so that it can be seen and photographed by anyone.
No wonder, then, that Banksy preferred to protect his works against unauthorised commercial use via trademark protection. He founded the company Pest Control Office Limited (UK), and this is the trademark owner of the now 18 Banksy EU trademarks that have been registered with the European Trademark Office so far – but not all of them still have trademark protection.
Invalidity actions against the Banksy trademarks
Because in 2019, the greeting card company Full Colour Black Limited (UK) filed invalidity actions against the Banksy trademark registrations and even claimed bad faith. The plaintiff argued that the Banksy marks were never registered for genuine use, but only because Banksy cannot claim copyright in his anonymity.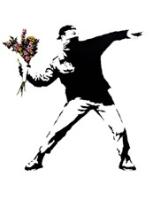 On the ground of bad faith, the applicant argued that the work that is the subject of the registration is graffiti sprayed in a public place. It had been capable of being photographed by the general public and had been widely disseminated. Banksy had allowed third parties to distribute his work and had even made image templates available via his website. The sole purpose of registering the EU trade mark, the applicant argued, was to prevent further use of the work, which he had already allowed to be reproduced.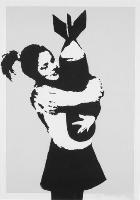 This showed that the registration had been made in bad faith.
Pest Control disagreed, arguing that there was no evidence that Banksy had also permitted the non-commercial use of the work, but only the non-commercial use of the images. This is because the non-commercial use was explicitly released to everyone via the Banksy website.
But in vain, the EUIPO has so far upheld two of the invalidity actions and declared the Banksy mark "Flower Thrower" invalid in September 2020 (CANCELLATION No 33 843 C), and then also the Banksy mark "Bomb Hugger" in June 2021 (CANCELLATION No C 39 921).
Registration of Banksy trade marks = bad faith
And the EUIPO also found bad faith in the trade mark application. After all, the purpose of a trade mark is to identify the commercial origin of the goods or services in question, which are used commercially. But Banksy had always emphasised that he himself was not pursuing any commercial interests. However, a trademark cannot be protected for the purpose of prohibiting others from registering or using a sign which one does not use commercially and does not plan to use.
Banksy, by these facts and also by his own admission, was clearly in breach of intellectual property laws, the EUIPO found.
In vain, Pest Control referred to the 2018 ECJ Neuschwanstein judgment (C-488/16 P), which states that a party who applies for a trade mark in pursuit of a legitimate aim of preventing another from obtaining an advantage by imitating the sign does not act in bad faith.
The EUIPO rejected this. In relation to the Banksy marks, this judgment could not be applied because Banksy did not use the sign as a trade mark and did not pursue a legitimate aim in this respect. Banksy did not intend to use his marks and allowed the public to download the images and use them as they wished – with the exception of commercial use. This, according to EUIPO, was incompatible with "honest" commercial and business practices, and therefore there was bad faith under Article 59(1)(b) EUTMR.
Banksy's attempt to protect his interests of non-commercial use with trademark protection are in vain. In any case, cancellation applications are currently pending against four more of the Banksy EU trademarks. Banksy seems to have to choose between his concern to prevent commercial use of his works – and his anonymity.
Would you also like to protect or defend a trademark?
Our lawyers and patent attorneys are experienced and highly qualified in all fields of intellectual property law.
We are authorised to represent you before any court – in Germany and also internationally.
Please contact us if you are interested.

Sources:
Cancellation decisions of EUIPO, No 33 843 C and No C 39 921