Crypto trades with NFT promise proportional participation in luxury brands and works of art; for this year's Valentine's Day, for example, the sale of NTFs on Klimt's "Kiss". But there are also legal disputes in the digital crypto world: Hermès as well as Sotherby's are in litigation over NFT, as is Quentin Tarantino.
NFTs are increasingly popular and interesting for brand companies as well as for the art market as unique certificates of ownership. They are digital certificates that are stored in a blockchain and are therefore considered forgery-proof, unique and decentralised. NFT, short for Non-Fungible Token, can thus enable proportional participation in luxury brands and artworks.
NFT in work of art
This type of crypto trading has been established in the art market for some time. Much attention was paid to Banksy's painting "Love is in the Air", which was divided into 10,000 NFTs. From 10 to 14 January 2022, the NFTs were sold; now they can only be obtained in the secondary market. Perhaps Banksy is using such merchandising in order to strengthen his IP rights on his work.
At the end of 2021, much attention was also paid to a Christie's auction in which the Beeple work "HUMAN ONE" was sold as an NFT – and at the same time as a real work of art. And today (14.02.22) the Museum Belvedere (Vienna) is selling 10,000 NFTs on Gustav Klimt's Kiss – fitting for Valentine's Day. However, one does not become a co-owner of the Original Klimt work, but only of the high-resolution, digital edition of the work, i.e. as an NFT.
Damien Hirst's art action "Dots" is also correspondingly remarkable, in which artist Hirst provided each of his unique dot paintings with a token- and forces the purchasers of the NTF to make a choice between the original painting and the NTF on this painting. "Making a choice" has been running for about half a year now, and on 27 July 2022, the choice must be made between the original and the NTF.
NFT lawsuit against Sotherby's: Quantum NFT
Through NFT auctions and sales, auction houses are also experiencing the boom of digitalisation – but with legal uncertainties.
The auction house Sotherby's, for example, is facing a legal dispute over the Quantum NFT. In June 2021, Sotherby's auctioned the token to an animated graphic called Quantum by Kevin McCoy, stored on the Ethereum blockchain.  The artist had already created this NFT as a token in 2014 – but not on Ethereum, because this blockchain has only existed since 2015. Instead, the token had been created by McCoy with the Namecoin software, and in 2015 he simply re-mint the work Quantum on Ethereum – while on Namecoin this NFT could be taken over by third parties after 250 days. This is how EarlyNFT (with the company Free Holding) took over the Quantum NFT on Namecoin.
This is exactly what the lawsuit Free Holding filed in New York court against Sotherby's, against McCoy and also against the buyer of the Sotherby's NFT auction on this work. Free Holding considers itself the sole owner of the Quantum NTF. The court will have to decide who has the ownership rights to the tokens, which were tradable on both blockchains.
NFT lawsuit by Hermès: unauthorised MetaBirkin NFT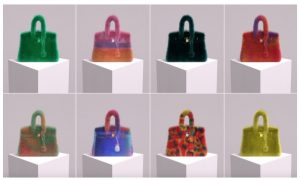 At least as much attention is currently being paid to the NFT lawsuit filed by Hermès in January 2022, also in New York court. The French corporation is suing the private individual Mason Rothschild for manufacturing counterfeit handbags – and doing so as unauthorised NFTs in the so-called metaverse. Rothschild had recreated the famous Hermès Birkin handbag with dyed synthetic hair and created NTFs from these images, which he called the series of MetaBirkins NFTs and offered for sale via the NFT trading platform OpenSea.
Hermès filed an application for injunctive relief and for damages against Mr Rothschild and is also demanding the destruction of all copies already minted and the surrender to Hermès of the domain "metabirkins.com" operated by Mr Rothschild.
Ownership of NFTs
The ruling is eagerly awaited and will bring more clarity on crypto property rights for NFTs. The court decision in the legal dispute over Quentin Terantino's NFTs from Pulp Fiction will also be helpful. Tarantino announced that he would auction seven "exclusive scenes" from his handwritten screenplay for Pulp Fiction as NFTs and was sued by the film studio Miramax for this.
Crypto storage
Crypto Trading platforms, digital trading – this raises questions about the regulation and certification of trading platforms for crypto transactions. Especially for brand manufacturers who want to use NFT as a seal of ownership, reliability, counterfeit protection and legal certainty with regard to crypto custody are essential.
Crypto storagy in Germany has been subject to the German Banking Act (Kreditwesengesetz, KWG) as a new financial service since 1 January 2020 – something that initially went relatively unnoticed. In practice, since then only those platforms are authorised for crypto custody in Germany that receive a corresponding licence from the German financial supervisory authority BaFin.
BaFin has granted the first licences in the area of crypto custody since summer 2021: At the end of June to the US crypto exchange Coinbase (whose stock market price promptly received a corresponding boost), then to Bloxxon (Germany) and thirdly to the start-up Tangany (Germany). More than 20 applications are still pending at Bafin, and more are likely to follow.
Legal representation desired for IP protection?
Our lawyers have many years of expertise in competition law and in the entire field of intellectual property law and are entitled to represent you before any court – in Germany and also internationally.



Sources:
Hermès versus Rothschild, US case 1:22-cv-00384, District Court Southern District of New York
Image:
StruffelProductions | pixabay | CCO License;  Hermès motives (and unauthorised "MetaBirkin NFT") are taken from the court file