Does a distinctive bow on the shoe lead to a patent infringement? Shoe manufacturer Eliya has filed a declaratory action against Skechers before the U. S. District Court of New York after Skechers accused Eliya of patent infringement.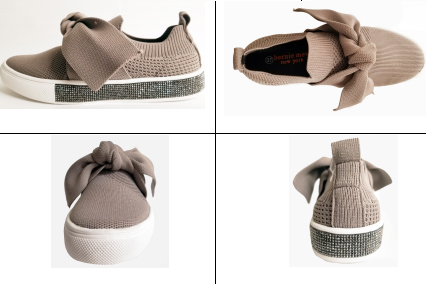 A few days ago, the shoe company Eliya Inc. filed a complaint for a declaratory judgment ("Complaint for Declaratory Judgment") before the U. S. Supreme Court. S. District Court Southern District of New York (Eliya, Inc. et al. v. Skechers U.S.A. Inc. et al.1:19-cv-00861). Skechers had sent Eliya a cease-and-desist letter in which she accused Eliya of infringing two of Skechers' shoe design patents ( U.S. Pat. No. D821,724 and U.S. Pat. No. D810,412). By asking the court for a declaratory judgment, the threatening and possibly very costly controversy can perhaps be resolved. In the declaratory action, Eliya alleges Skecher's injury to the Puma Bow Shoe and The Eliya Bow Shoe shoe models.
Under U.S. law, a design is infringed if a copy is "substantially similar". Under U.S. Patent Law designs must be new and not obvious in order to be patentable. In the case of utility models protecting functional elements of inventions or processes, the entire product is protected, in the case of designs only the ornamental designs of functional objects are protected.
Is a bow functional?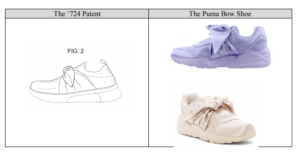 Eliya denies that the design with the bow was new at the time of the patent application. As early as 2015, Puma began selling a shoe in bow design. But Skechers did not apply for a patent for such a bow design until February 2018.
Eliya also claims that the Skechers bow design protected by the patent is functional. Because the bow fulfils a functional task when the shoe is put on or released by putting on or releasing the bow around the foot. If the court were to agree with that view, the arch design could not be protected as a design since it would fulfil a function.
With this reasoning, Eliya asks that the Court give the following judgment against Skechers:
A statement that Eliya did not cause any injury.
The annulment of the patent U.S. D821,724 for lack of novelty.
Skechers is not the first time in a dispute over his shoe design. In May 2018, a U.S. court ruled that there was a significant risk of confusion between the adidas sneaker Stan Smith and the Skechers' Onix sneaker ( Partial success for adidas before U.S. Court of Appeals ).
Would you also like to protect your trademark or brand?
Our lawyers are experienced in trademark and patent law, national and international law.



Source for text + picture: