On July 14, the Chinese State Administration for Industry and Commerce issued notification to introduce reform to simplify trademark registration. The specific changes are as follows: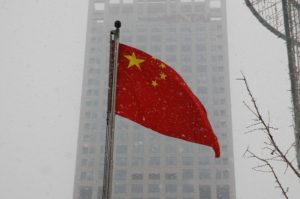 The State Administration for Industry and Commerce issued a notice on July 25 to promote the reform of trademark registrations nationwide. In the first half of 2016, the number of trademark applications reached 1.74 million, up 32.3 percent from the same period of 2015.
Convenience being the key to reform, application channels will be expanded. Pilot zones have been set up in places such as Ya'an, Sichuan province, and Taizhou, Zhejiang province, this year, and more places will start the reform testing. Starting this year, trademark review collaboration centers will be set up in pilot areas. From 2017, applicants can apply through the Internet or go to local trademark registration centers.
The reform will simplify and optimize related registration procedures. The notice will be released within three months, shortened from six months. The required documents will also be simplified.
The reform will also improve the review process and efficiency. Review collaboration centers will be responsible for over 70 percent of the reviews. Moreover, the reform will enhance trademark credit supervision through information technologies such as big data and cloud computing. Illegal actions will be published and punishment will be increased.
In a nutshell: These are the changes
1. Carry out pilot programs for acceptance of trademark registration applications outside Beijing in places like Sichuan Ya'an and Zhejiang Taizhou in 2016.
2. Establish trademark review cooperation centers outside Beijing.
3. Gradually establish more application acceptance points for pledge registration of registered trademark throughout China beginning from 2017.
4. Expand the entitlement of online application from trademark agencies only to all the applicants; the subject of online application is to be expanded from trademark registration application to trademark renewal, assignment, cancellation and alteration.
5. Reduce the issuance of notice of acceptance of the application for trademark registration from six months to three months.
6. For registered trademarks whose states are in need of written proof from the Trademark Office, the Trademark Office stamps "special seal for proving trademark registration" on copy of trademark archives and no longer provides "certificate of trademark registration".
Applications filed in the trademark registration hall are to be processed on the spot and applications filed by post are to be finished and sent receipt within five days, so as to shorten processing time. The processing of trademark registration certificate of Madrid international registered trademark remains unchanged.
7. Vigorously promote electronic trademark registration certificate and electronic delivery; the trademark database is to be opened for public use.
8. Improve service of windows in trademark registration hall and provide clear guidance to the applicants by publishing list of acceptable products and services and the formality examination standards for all the types of trademark application.
9. Outsource part of the trademark examination work and all of the service work.
10. Promote sole examination system for international trademark registration and trademark dispute examination. The trademark review and cooperation center strives to process over 70% cases with the sole examination system in 2016 and to further shorten the trademark review period on the basis of ensuring the nine-month statutory time limit.
Register your trademark in China
Does the changes above sound good to you? Then this might be your chance to (finally) register your trademark in China! If you want to do so, please do not hesitate to contact our patent attorney Junyi Zhu. She will assist you with the trademark registration and will guide you through the entire process.
Request a call-back without any obligations:


Source: Press Release The State Counsil The People's Republic of China | Newsletter 1608EN by Dragon IP