More than 4500 domain names that were illegally selling counterfeit products to consumers online have been seized by law enforcement authorities in a joint global operation. Operation In Our Sites (IOS) VII tackled copyright-infringing websites and third-party marketplace listings selling luxury goods, sportswear, spare parts, electronics, pharmaceuticals, toiletries and other fake products.
Law enforcement authorities from 27 countries/administration, anti-counterfeiting associations and brand owner representatives participated in this huge action, which was coordinated and facilitated by Europol's Intellectual Property Crime Coordinated Coalition (IPC³), the US National Intellectual Property Rights Coordination Center and Interpol.
"This year's operation IOS VII has seen a significant increase in the number of seized domain names compared to last year. This excellent result shows how effective cooperation between law enforcement authorities and private sector partners is vital to ultimately make the internet a safer place for consumers. Through its Intellectual Property Crime Coordinated Coalition (IPC³), Europol will continue to work closely with its partners to strengthen the fight against intellectual property crime online and offline,'' says Rob Wainwright, Director of Europol.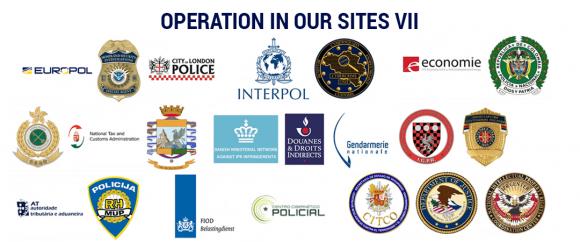 "The tremendous collaborative efforts between law enforcement and industry prove the internet is not a safe haven for counterfeiters preying on consumers," said the ICE-led National Intellectual Property Rights Coordination Center Director Bruce Foucart. "Our investigators are committed to bringing online pirates to justice by seizing websites, working with global police authorities and strengthening relationships with industry partners."
Fighting the trade of counterfeit products online is a challenging and difficult task for law enforcement. To strengthen the fight against counterfeiting and piracy online and offline, Europol and the European Union Intellectual Property Office (EUIPO) joined forces to launch the Intellectual Property Crime Coordinated Coalition (IPC³) in July 2016. With its increased operational capabilities, the IPC³ has successfully supported many high-priority investigations related to online intellectual property infringements such as Operation Student and Operation Fake.
Source:
Text + Pictures: Europol Press Release