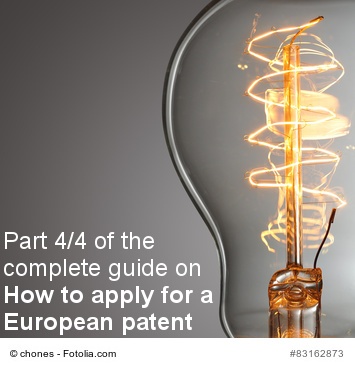 Our last blog post was about everything that happens between the filing of your application and the substantive examination, which means the ultimate evaluation of your invention's novelty. With the latter and all other remaining steps, including granting and validating your European patent, we'll deal today. We'll also have a look at all available options after the granting, i.e. limitation and revocation. And what is to be done if your patent is not granted, but rejected? This is the last part of our blog series on how to apply for a European patent.
6. Substantive Examination
This is the main step of the examination: The EPO now checks your application in detail and as a whole in order to determine if it meets all conditions which the EPÜ defines and if hence a European patent can be granted. This decision is normally made by a team of three patent examiners to find a judgment as objective as possible.
7. Granting Your Patent
Great how far your application has already come, isn?t it? Now you only have to file the translation of your patent claims and pay the fees for granting and releasing your patent. After this is done your European patent will be made public.
8. Validation
After your patent has been released it has to be validated by the specified countries within a certain time period. Only then the patent will get a real protective effect and could for example be used against patent infringers. If needed according to individual national laws, you might have to submit translations of the patent specification or even pay additional fees. You might also need to designate a local representative.
It is only after the validation has been completed that the protection of your invention comes into effect in every single of the specified states. Until then your invention only enjoys provisional protection, which means that you can demand compensation from infringers, but cannot obtain injunction.
9. After the Patent Has Been Granted: Opposition and Limitation
Objection
Now you have finally achieved what you were aiming for: The patent is yours and you can dispose of your invention as you like, without having to worry about third parties using your invention ? because with a patent, you can take action against infringers of your intellectual property. But of course some of your competitors might not like this. So for a time of nine months after your patent has been granted third parties can file an objection against your patent and question your invention?s novelty. These objections are handled by the opposition division, which again consists of three examiners, similar to the substantive examination.
Especially in this stage you can benefit from the help and advice of an experienced patent attorney. Patent attorneys will exploit every possible detail to persuade examiners that your invention really is new. In this way patent attorneys help to preserve your patent as soon as it is questioned.
Limitation and Revocation
At this time you as a rights holder could also limit or even revoke your own patent. You can do this at any moment after your patent has been granted. To do this, use limitation, respectively revocation proceedings. If you limit or revoke your patent it will be in effect in this form as if it had been limited or revoked right at the beginning. Limitation and revocation apply to all states where the patent has been granted and come into effect as soon as the decision is officially released.
10. What to do in Case Your Patent Application Is Rejected
If it happens that your patent application is rejected and no patent is granted, there are still some options left: You can file an application with the independent board of appeal. Under certain circumstances they will again examine your invention.
Wrap-up
During the substantive examination the EPO ultimately evaluates the novelty of your invention and decides if a patent can be granted.
Only when your patent has been validated by the EPÜ member states, patent protection for your invention actually comes into effect.
For a time of 9 months after your European patent has been granted your competitors can raise an objection. This is a critical step.
What?s the Consequence for You?
The filing of an application might seem easy and relatively effortless to you. But, as you learnt from this guide, to applicate doesn?t automatically mean that your patent will be granted. Don?t underestimate the huge obstacles which can result even from one small carelessness. Better make sure that you have experienced and helpful partners who supervise the whole process together with you. Therefore the EPO recommends that every applicant gets help from a patent attorney. And applicants who don't reside in Europe are actually obliged to use support from a lawyer!