Two current annual reports on innovation and intelligent technology in Germany provide interesting insights into the IT strategy of companies. Up to 45% of the IT budget is spent on digitization and automation – but security issues are the most relevant.
According to two current annual reports on innovation in Germany – the Capgemini annual report and the EFI experts report – Groups with annual sales of 1 billion euros or more even spend up to 45 percent of their entire IT budget on the digitization of companies. Above all, digitization is used to hire new employees, expand cloud capacities, expand data analysis and networking, and also the use of intelligent technologies.
The proportion of spending on intelligent technologies for the year 2020 is around 15 percent. At present, however, the use of intelligent technologies does not yet have a clear strategic significance for most of them; pilot projects and evaluations are intended to provide more clarity here about the actual significance for the company. The approval of automation is the clearest: about 70 percent of the participants in the recently published annual report of Capgemini automate processes.
Capgemini annual report
In September and October 2019, Capgemini surveyed people who act as decision-makers in rather large companies.
The study is based on the findings of 120 decision-makers from Germany (100), Austria (17) and Switzerland (3), mainly from the automotive, public sector and industrial sectors. The majority of them achieve a turnover of more than 1 billion euros per year.
Most frequently, companies use intelligent technologies to automate manual activities, improve or accelerate processes and analyze data in detail. The use of chatbots and automation in customer dialog is also relevant for companies.
Overall, active technology management is less important than last year, as it is based on the portfolios of the major cloud providers, which are now more clearly structured and with which companies have more experience.
According to the expert opinion, the restriction of the operation of intelligent systems in inner-European clouds is received with mixed reactions, which differs by industry. By the way, the majority of the respondents clearly rejects the disclosure of training data.
Energy suppliers also invest a lot of money in intelligent technologies, and do so very selectively. In their opinion, the results are good, and above all, real-time data collection opens up many interesting applications for intelligent systems in this sector. These range from maintenance of systems and network components to automated trading systems and energy price forecasting.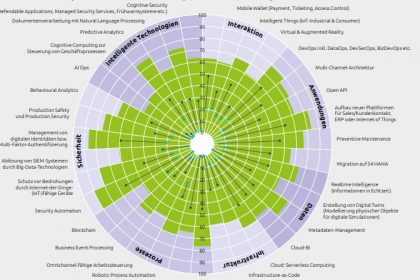 Outlook: what are the most important topics in the area of IT?
The companies were also asked about an outlook on the most important topics in the near future. We will limit ourselves here to the most frequent topics in the area of Intelligent Technology, which were named as follows:
Intelligent Process Automation (RPA with AI decisions)
Cognitive Security (Defendable Applications, Managed Security Services, Early Warning Systems etc.)
Document processing with Natural Language Processing
predictive analytics
Cognitive Computing for the control of business processes
AI Ops
Development of new platforms for sales/customer contact, ERP or Internet of Things
High relevance of security issues
Safety issues received the highest approval ratings. In addition to cognitive security, these include in particular the management of digital identities or multi-factor authentication and security automation.
IoT: light and shadow
The Internet of Things (IoT), which is also a popular topic in the general press landscape, is of medium importance. With regard to Industrial & Consumer, IoT is considered a medium important topic by companies, but it is also considered a medium security risk due to (IoT-)capable devices.
EFI opinion on innovation
The high relevance of security issues for companies and for innovation in Germany is also confirmed in the annual report of the Expert Commission for Research and Innovation (EFI), the EFI's report on research, innovation and technological performance in Germany, which has also just been published. With its annual report on innovation, the EFI Expert Commission makes recommendations to the German Federal Government.
Cyberthreat inhibits innovation activity
In this EFI opinion, the cyberthreat is seen as an inhibition of innovation activity by companies. The EFI therefore recommends that the approval of components of digital infrastructures should be based on criteria that apply throughout the European internal market. The report also calls for the rapid launch of the national cyber agency, which has already been agreed upon politically.
Technology exchange between Germany and China
A large part of the EFI report also deals with the exchange of knowledge and technology between Germany and China. The EFI Commission calls for a level playing field, as there are still restrictions on German direct investments in China. Scientific cooperation with China also poses a challenge for German researchers, since science in China is subject to direct government influence. The EFI Commission therefore considers a China Competence Centre for Science and Research to be necessary.
Protecting innovation through patent rights
In this context, we would like to remind you how closely innovation and intellectual property (IP) protection are intertwined – don't hesitate for a moment to protect your innovation with a patent. We are also happy to advise you on a complex IP strategy for your company.
Our attorneys have many years of expertise in patent law as well as in the entire field of intellectual property and are authorized to represent you in any court – in Germany and internationally.
Please contact us if you are interested.
Sources for text and images: