The number of European patent filings grew again in 2015 reaching a new high. The figure is an indicator of the growing demand for patent protection from businesses worldwide.
According to the Annual Report of the European Patent Office (EPO) shows that 2015 nearly 279 000 (in 2014: 274 000, +1.6%) patents were filed. That's a new record. The report also shows, that the number of patent applications raised aswell – 2014: 152.700, raising 4,8% to 160.000.
This increase was fuelled mainly by companies from the US (+16.4%) and China (+22.2%). The volume of applications originating from the 38 EPO member states remained almost stable last year (+0.7%). In addition to the innovative capacity of US businesses, the strong growth in applications from the United States is also due to the effects of a change in US patent law. The top five countries of origin for European patent applications in 2015 were the US, Germany, Japan, France and the Netherlands.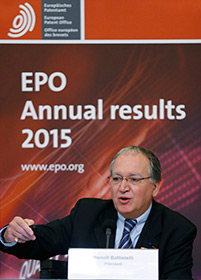 "The remarkable growth in patent applications at the EPO proves that Europe continues to be a hub for innovators from all over the world, and an attractive technology market," said EPO President Benoît Battistelli.
"It reflects the interest of businesses and inventors in opting for high-quality patent protection for the European market." He added: "Despite the impressive growth in applications from outside Europe, the balance of the number of patent applications made by European companies in other regions remains clearly positive, which underlines the innovative potential of the European economy."
Varied activity across Europe
There were marked differences in patenting activity among European countries in 2015: Italy reversed the negative trend of the past four years (with +9.0% more applications in 2015 from Italian companies than in 2014), as did Spain (+3.8% over 2014). Meanwhile, Belgium (+5.9% over 2014), the UK (+5.7%), the Netherlands (+3.3%) and Switzerland (+2.6%) all continued their growth.
Other countries including France (+1.6%), Austria (+1.4%) and Sweden (-0.9%) remained more or less at the level of the previous year, while applications from Germany dropped again (-3.2%), and some Nordic states such as Finland (-8.3%) and Denmark (-2.7%) also had fewer applications. Among the countries with smaller application volumes, there were strong increases from Poland (+17.8%), Turkey (+10.9%), the Czech Republic (+27.5%), Portugal (+21.2%), and Lithuania (+62.5%).
Medical technology, digital communication and computers are top fields
Medical technology was once again the field with the highest number of patent applications at the EPO in 2015, growing by a further 11% over 2014. Other areas which showed significant growth were "Engines, pumps and turbines" (+18%) (where many patent applications in clean energies are filed), "Pharmaceuticals" (+10%), "Measurement" (+8%) and "Computers" (+8%). 
Europe leads in 8 of 10 most active fields of technology
Several important sectors of technology saw fewer applications from European companies, including "Digital communication" (EPO countries dropping by -12% over 2014, compared with the field's overall growth of +3%), "Biotechnology" (-6% for EPO countries compared to +5% overall), and "Electrical machinery, apparatus and energy" (-5% for Europe; -2% overall). But European businesses filed the most applications in 8 of the 10 top technical fields (only "Medical technology" and "Computers" were dominated by US firms), demonstrating their broad patent portfolio.
Europe led in a wide range of technologies: Dutch company Philips was top applicant at the EPO in three areas ("Medical technology", "Electrical machinery, apparatus, energy" and "Measurement"); Germany's Bayer was no. 1 in "Organic fine chemistry"; and Dutch-based multinational DSM had the most patent applications in "Biotechnology". 
European Patent filing – can we help you?




Source: European Patent Office