Hague Yearly Review 2016 is now available. The Hague Yearly Review provides an overview of the use, performance and developments of the Hague system. It includes a comprehensive set of statistics for the latest available year. Spoiler: International industrial design applications grew by over 40% in 2015!
International industrial design applications filed under WIPO's Hague System grew by 40.6% in 2015, the fastest rate since 2008. Designs contained in those applications grew by 13.8%, partly explained by the expansion of the Hague System to include the Republic of Korea in 2014, and Japan and the U.S. in 2015. The 4,111 applications filed in 2015 contained 16,435 designs. In 2015, WIPO recorded 3,581 international registrations, which corresponds to an increase of 32.5% on 2014 figures. These registrations contained 14,484 designs, which is a 7.3% increase on 2014 figures, and marks the fourth consecutive year of growth in the number of designs.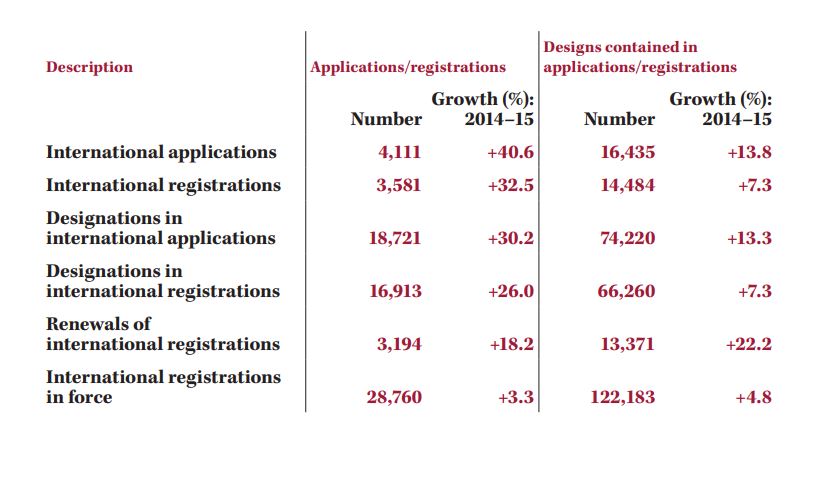 Samsung Electronics became the largest applicant
Samsung Electronics of the Republic of Korea, with 1,132 designs, displaced Swatch AG of Switzerland (511 designs) to become the largest user of the Hague System. The Netherlands' Fonkel Meubelmarketing (438), Volkswagen of Germany (418) and Procter & Gamble of the U.S. (369) complete the list of top five applicants. Samsung's top ranking is likely the result of the Republic of Korea becoming a Hague member in 2014, making the Hague System more attractive for the protection of Samsung's industrial designs.

Germany remains the top origin of filings of the Hague System
Germany, with 3,453 designs in international applications, remained the largest user of the Hague System, despite a 10.7% decrease in usage when compared with 2014 figures; it was followed by Switzerland (3,316 designs), France (1,317) and the Republic of Korea (1,282).
Download the original publication to get further informations (58 Pages): Hague Yearly Review 2016
International Design Application – get advice from German experts
If you want to register your industrial design not just national but international, our Law Firm with its experts can help you.
Request a free call-back without any obligations now:

Source: