China joins the ranks of the world's 25 most-innovative economies, while Switzerland, Sweden, the United Kingdom, the United States of America, Finland and Singapore lead the 2016 rankings in the Global Innovation Index, released by Cornell University, INSEAD and the World Intellectual Property Organization (WIPO).
China's top-25 entry marks the first time a middle-income country has joined the highly developed economies that have historically dominated the top of the Global Innovation Index (GII) throughout its nine years of surveying the innovative capacity of 100-plus countries across the globe. China's progression reflects the country's improved innovation performance as well as methodological considerations such as improved innovation metrics in the GII.
Despite China's rise, an "innovation divide" persists between developed and developing countries amid increasing awareness among policymakers that fostering innovation is crucial to a vibrant, competitive economy.
Innovation requires continuous investment
Before the 2009 crisis, research and development (R&D) expenditure grew at an annual pace of approximately 7%. GII 2016 data indicate that global R&D grew by only 4% in 2014. This was a result of slower growth in emerging economies and tighter R&D budgets in high-income economies – this remains a source of concern.
"Investing in innovation is critical to raising long-term economic growth," says WIPO Director General Francis Gurry. "In this current economic climate, uncovering new sources of growth and leveraging the opportunities raised by global innovation are priorities for all stakeholders."
The Top 25 Ranking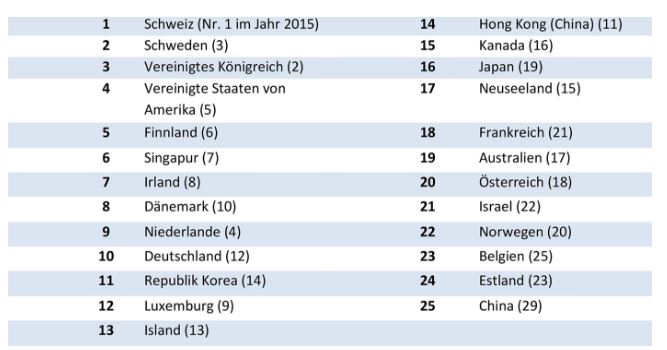 Among the GII 2016 leaders, four economies — Japan, the U.S., the UK, and Germany— stand out in "innovation quality," a top-level indicator that looks at the caliber of universities, number of scientific publications and international patent filings. China moves to 17th place in innovation quality, making it the leader among middle-income economies for this indicator, followed by India which has overtaken Brazil.
Soumitra Dutta, Dean, Cornell College of Business, and co-editor of the report, points out: "Investing in improving innovation quality is essential for closing the innovation divide. While institutions create an essential supportive framework for doing so, economies need to focus on reforming education and growing their research capabilities to compete successfully in a rapidly changing globalized world."
GII 2016 Theme: "Winning with Global Innovation"
The GII theme this year is "Winning with Global Innovation." The report explores the rising share of innovation carried out via globalized innovation networks, finding that gains from global innovation can be shared more widely as cross-border flows of knowledge and talent are on the rise. The report also concludes that there is ample scope to expand global corporate and public R&D cooperation to foster future economic growth.
Bruno Lanvin, INSEAD Executive Director for Global Indices, and co-author of the report, underlines: "Some may see globalization as a trend in search of its 'second breath.' Yet, the relative contraction of international trade and investment flows does give even more strategic importance to the two sides of global innovation:
on one hand, more emerging countries are becoming successful innovators, and on the other hand, an increasing share of innovation benefits stem from cross-border co-operation."
At the national level, the report says that innovation policies should more explicitly favor international collaboration and the diffusion of knowledge across borders. New international governance structures should also aim to increase technology diffusion to and among developing countries.
Johan Aurik, Managing Partner and Chairman of GII Knowledge Partner A.T. Kearney, the global consultancy, says: "Digital has become a primary driver of strategy development and innovation for business in almost all sectors; I am convinced we are only at the beginning. Notably for established organizations, the challenge lies in finding ways to successfully innovate by using and transforming existing resources and business practices. Realizing success in today's new landscape requires creative, forward-thinking strategies that embrace digital and address the need to change the fundamental ways of working in the company."
Do you want your country to be Rank #1 in 2017?!
Dr. Meyer-Dulheuer & Partners LLP protects your invention and your intellectual property. We can help you in all matters concerning Patent Law, Utility Model Law, Employees' Inventions, Trademark Law, Design Law and Trademark & Product Piracy.
Need assistance or are there any questions left? Request a free call-back from us without any obligations:

Source:
Text and graphics/videos are courtesy of the World Intellectual Property Organization and the Global Innovation Index // Press Releases