The newest Version of the "Madrid Yearly Review" is out now. The MYR claims to be the plattform for comprehensive facts, figures and analysis of the international registration of marks. Right away: The amount of applications has grown but the registration-rate has (significantly) decreased. All key facts in our article:
Madrid Yearly Review: Key Numbers
| | | |
| --- | --- | --- |
|  Description |  2016 |  Change |
| | | |
|  Madrid International applications |  52.550 |  (+) 7,2 % |
|  Designations in international applications |  353.268 |  (+) 6,2 % |
|  Madrid International registrations |  44.726 |  (-) 13,9 % |
|  Subsequent designations in international registrations |  45.633 |  (-) 5,7 % |
|  Renewals of international registrations |  29.546 |  (+) 2 % |
|  Active (in force) international registrations |  641.587 |  (+) 2,5 % |
|  Designations in active international registrations |  5.658.043 |  (+) 0,4 % |
|  Share of Madrid designations in total non-resident trademark filing activity (for Madrid members only) |  63% |  (-) 2 % |
|  Contracting Parties (Madrid members) |  98 |  (+1) member |
|  Countries covered |  114 |  (+1) country |
Statistics on Madrid international applications
An estimated 52,550 international trademark applications were filed under the WIPO-administered Madrid System in 2016 (figure 1). That is a record number. The annual growth rate of 7.2% was the fastest recorded since 2010 and much faster than 2015's modest increase of 1%. The increase was driven by strong growth in applications from both China and Germany. China's increase accounted for more than one-third (36.8%) of total growth, while that of Germany represented about one-fifth (20.8%).
For the third year in a row, the United States of America (U.S.) remained the largest user of the Madrid System. International applications filed by applicants located in the U.S. reached 7,741. These were followed by applications from Germany (7,551), France (4,132) and China (3,200).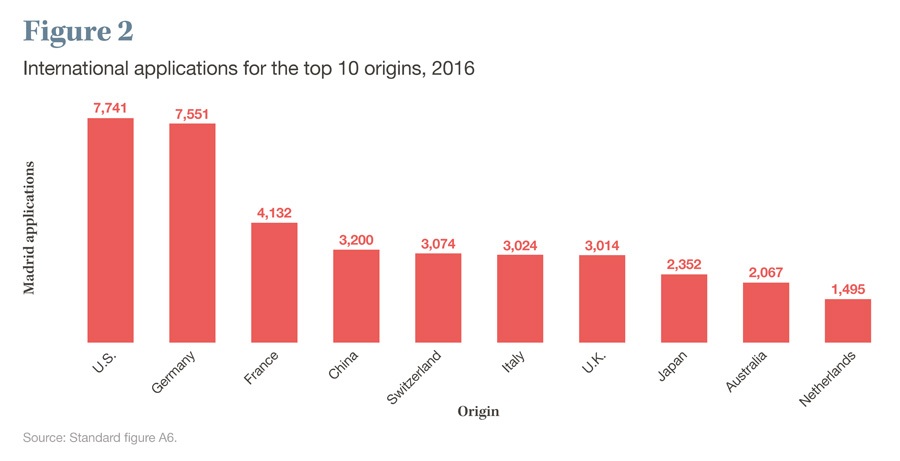 Applicants domiciled in China filed about 1,300 more Madrid applications in 2016 than in 2015. The resulting remarkably high growth of 68.6% pushed China from ninth largest origin in 2015 to fourth largest in 2016. Combined, the top 10 origins of applications accounted for 72% of all international applications filed in 2016. Applicants from Madrid member countries located on the European continent filed 62.2% of all international applications, followed by those in Asia (17.5%), which has seen an increase of about seven percentage points compared to its share a decade earlier.
Germany (+10.8%), Italy (+14.4%) and the U.K. (+10%) – three larger European countries – saw strong growth, whereas France (-0.4%) recorded a small decline in applications. Among the top 20 origins, the Russian Federation (+32.7%), Finland (+24.9%) and the Netherlands (+14.1%) also recorded high annual growth. On the other hand, seven of the top origins saw declines, with Belgium (-12.3%) recording the sharpest.
Fourth-ranked China, 12th-ranked Turkey (1,221) and 13th-ranked Russian Federation (1,176) are the only three middle-income countries appearing in the top 20.
Statistics on Madrid international registrations
After 125 years of existence, the Madrid System recently recorded its 1.3 millionth international trademark registration. The long-term trend for registrations broadly follows that for applications. However, despite an increase in the number of international applications filed in 2016, the 44,726 international registrations recorded in the same year represent a 13.9% decrease compared to 2015.
This decrease was mainly due to the deployment of a new back-end IT system in 2016, which occasioned a temporary contraction of the production capacity of the International Bureau (IB) of WIPO. It should be noted, however, that registrations can fluctuate considerably from one year to the next due to a number of factors, such as the time it takes for international applications to be processed at offices of origin before being sent to the IB, and the processing time required at the IB itself.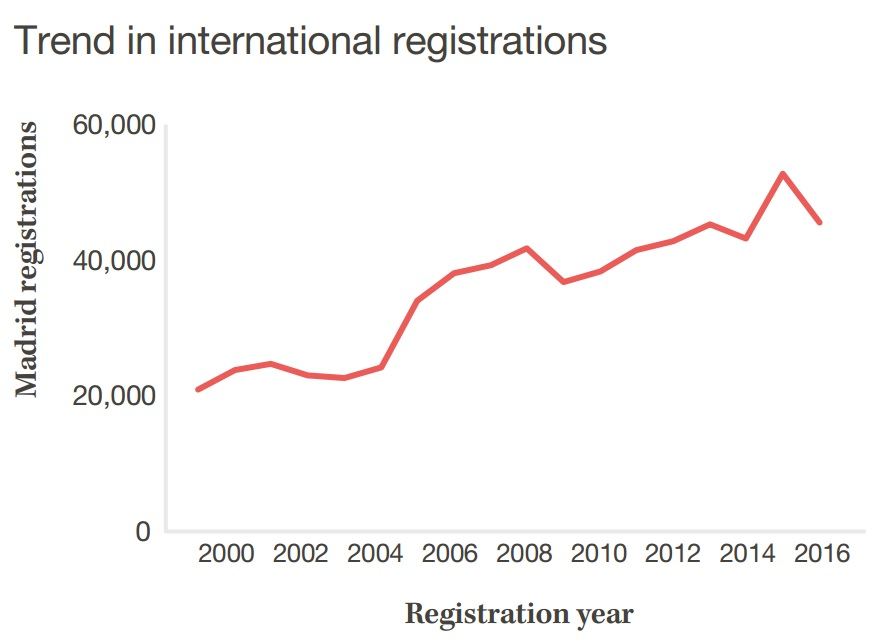 Due in part to Madrid System accessions and the incentive for holders to extend protection to new members' jurisdictions as well as existing ones, the number of subsequent designations increased from about 26,000 in 2000 to 45,633 in 2016.
However, international registration holders requested 5.7% fewer subsequent designations in 2016 than in 2015. This was the second consecutive year that the number of subsequent designations declined. The number of subsequent designations increased sharply by 43.2% in 2003, corresponding with the year in which the U.S. became a member of the Madrid System and the year before the EU joined (figure 8). In contrast, subsequent designations decreased by 18.8% at the height of the global financial crisis in 2009, on a par with the 20.3% drop in designations in new applications.
Statistics on renewals and active Madrid international registrations
International registration holders renewed 29,546 registrations in 2016, representing an increase of 2% on 2015 and the fifth consecutive year of growth. The number of renewals in a given year depends on both the number of registrations and the number of renewals recorded 10 years previously, so the trend is only a partial reflection of the trend in registrations with a 10-year lag.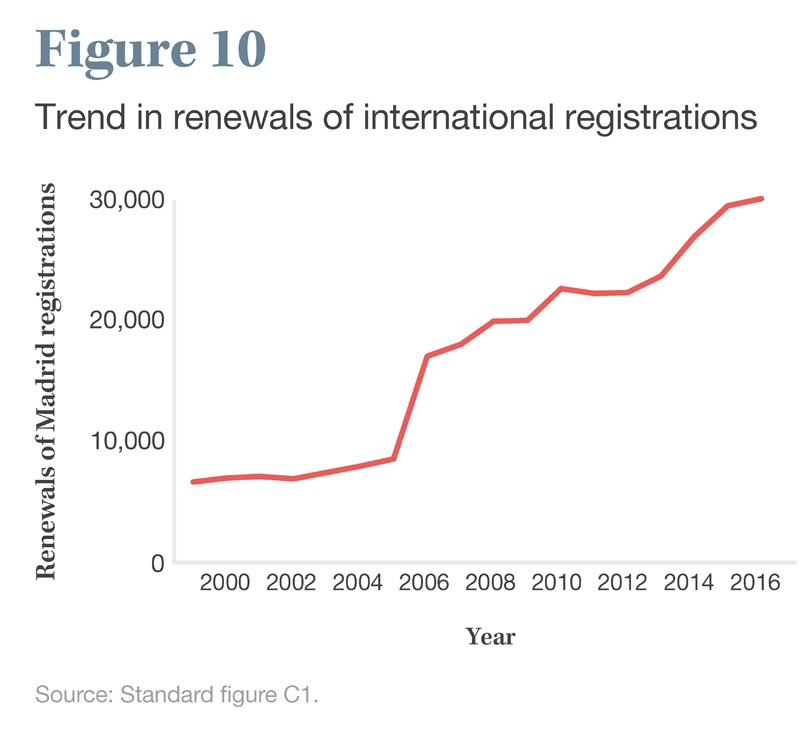 In just one year, renewals of Madrid registrations doubled, from about 8,150 in 2005 to just over 16,600 in 2006. Since then, they have trended upwards, notwithstanding a modest decline in 2011. The high growth in renewals in 2006 resulted from a change in the renewal period from 20 to 10 years that came into effect in 1996.
Holders from Germany (7,726), France (4,546) and Switzerland (2,573) recorded the highest numbers of registration renewals in 2016, reflecting these countries' long-standing membership of the Madrid System. Their holders' stocks of international registrations have often been maintained for many decades. Together, these three origins accounted for half of all renewals in 2016. Although half the top 20 origins for renewals in 2016 saw near-zero growth or declines compared to the previous year, several recorded increases in excess of 30%, namely Hungary (+83.3%), Finland (+40%), Sweden (36.9%) and the Russian Federation (+31.7%).
Statistics on administration, revenue and fees
Electronic transmission was introduced in 1998, and its share of total transmissions had reached just 0.2% by the end of that year. Since then, the share of applications received electronically by the International Bureau (IB) has increased significantly. In 2013 and 2014, slightly more than half (52%) of all applications received by the IB were transmitted electronically by all offices of origin combined. This share increased by almost 23 percentage points to reach 74.5% in 2016.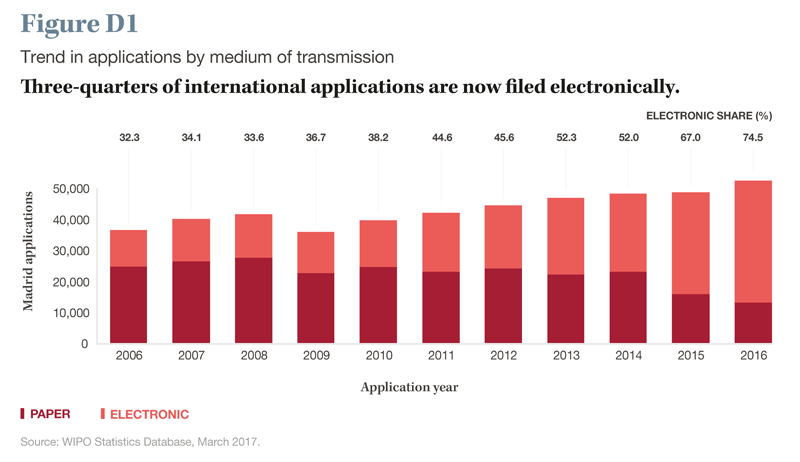 In 2016, 81.6% of applications were filed in English, with French accounting for 15.8% and Spanish for 2.7%. The low share of filings in Spanish since its introduction as a filing language in 2004 is due to the fact that, to date, the Madrid System includes only four Spanish-speaking countries (Colombia, Cuba, Mexico and Spain), with Spain the only one listed among the top 20 origins of international applications.
International applications that fail to meet all the formal requirements are considered by the IB to be irregular. In such instances, the IB informs both the Madrid member's IP office of origin and the applicant of the irregularities. Responsibility for remedying such irregularities lies with the IP office of origin or with the applicant, depending on the nature of the irregularity. In 2016, 38.5% of international applications contained irregularities. For the past decade, this share has ranged from 28% to 39% of all international applications filed.
An international registration may change ownership following assignment of a mark, the merger of one or more companies, a court decision, or for other reasons. The change is subject to the recording of the new owner as the new holder of the registration in the International Register, and the new holder must fulfill the requirements necessary for holding an international registration. These include having the required connection to a Madrid member, which means being a national of, or being domiciled in, or having a real and effective industrial or commercial establishment in a Madrid member's jurisdiction.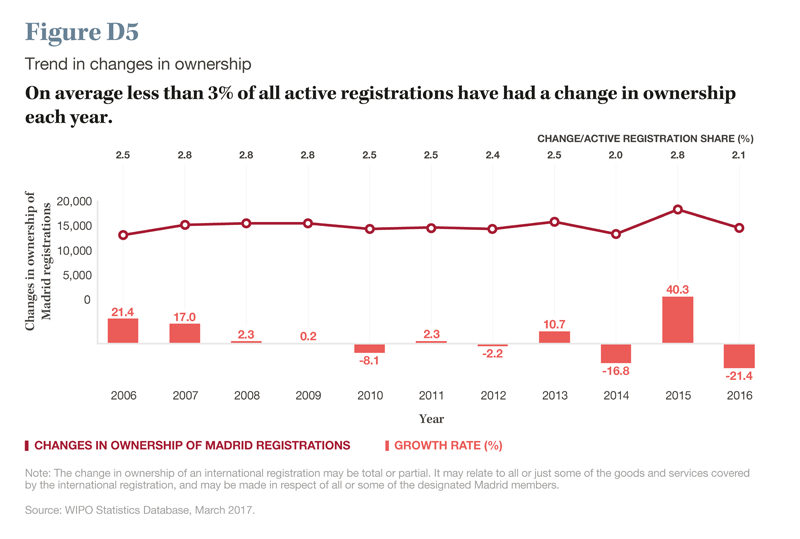 In 2016, there were approximately 13,600 changes in ownership of active international registrations – about 3,700 fewer than in 2015, representing a decline of 21.4%. The share of changes in ownership relative to the number of active registrations is small and has remained relatively stable over time. Only 2.1% of all active registrations changed ownership in 2016.
Note:
In editions of the Madrid Yearly Review before 2016, many indicators were based on international registration data. With the aim of better understanding the behavior of an applicant when first filing a Madrid international application, the 2016 and 2017 editions enlarged their scope by primarily focusing on application data, albeit while still reporting pertinent registration statistics.
The application statistics used are based on the original filing date at a Madrid member office of origin. This removes the time lag between the date on which an application is first filed at an office of origin and the date it is received and recorded by WIPO. The 2016 data on applications by origin are estimated, as not all applications filed at offices of origin had been transmitted to WIPO at the time the Review was drafted. Data published in WIPO's press release of March 15, 2017 and related infographics may slightly differ from those published in the Review, because these data are continually updated as WIPO receives more data from offices of origin of Madrid members.
Source:
Text + Graphics: WIPO Madrid Yearly Review 2017 Official Publication