At the beginning of a new year, the classifications for international patents, goods/services and designs according to IPC, Nice and Locarno always come into force in a new version, so now in version of 2022. Interesting is the depiction of new technical and material trends – and the diversity of robots.
IPC classifications 2022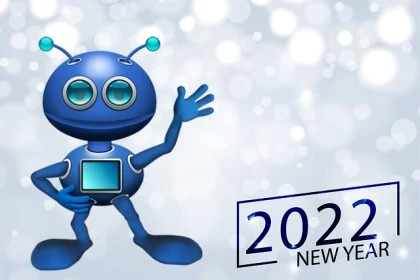 Some changes in the IPC Classifications 2022, i.e. the International Classification for Patents and Utility Models, are quite interesting. In total, about 250 positions have been transferred to others, but above all almost 1,500 new positions have been added.
There has been a particularly large movement in Sections B and C, in the fields of filters (B01D 46/00), combination of devices (B01D 50/00) and destruction of solid waste (B09B 3/00). Notable new sub-groups were added for "optical observation devices", i.e. camera systems for drivers and passengers (B60R 1/00) and the treatment of metal powder (B22F 1/00). In addition, the main group C01F 7/00 ("Compounds of aluminium") was expanded by almost 70 positions.
And the subclass B01F ("Mixing…") is changed over its whole range and now contains about 330 groups and 50 index places.
In general, new technical trends can be read: for example, in the case of domestic heating systems, there is a new main group for small combined heat and power plants (F24D 18/00) as well as associated index places (F24D 101/00-105/00). In dynamoelectric machines, H02K 1/27 ("rotor cores with permanent magnets") gives rise to over 20 new sub-groups.
In the subclass for the transmission of digital information (H04L), even 10 new main groups with a total of 510 new digits and an index scheme with more than 30 digits are created. Quantum computers (G06N 10/00) are not yet so much in focus: here the changes are less than 10 digits.
Nizza classifications 2022
In the new version NCL 11-2022 of the Nice Classification (International Classification of Goods and Services for the Registration of Marks), we mainly present the area of class 5 in which pharmaceutical products and other preparations for medical or veterinary purposes are arranged. In the course of modern food supplements and vitamins or antioxidants for health/beauty care, it may not be clear at first sight how such preparations are to be classified.
It is helpful to be guided by the medicinal purpose for humans or animals: so Class 5 includes medicinal shampoos, soaps, lotions and dentifrices, as well as nappies for babies and for incontinence and also food supplements to supplement the normal diet or to provide a health benefit, and food substitutes and dietetic foods and beverages – with a medicinal purpose.
However, food substitutes and dietetic foods and beverages not intended for medical or veterinary purposes must be classified in the appropriate food or beverage classes, e.g. low-fat crisps (cl. 29), high-protein cereal bars (cl. 30) and isotonic drinks (cl. 32). The same applies to hygiene preparations, insofar as they are not medicinal products for body and beauty care (they belong in class 3), and also to ingredients for the manufacture of pharmaceutical products, if they are, for example, vitamins, preservatives and antioxidants (which belong in class 1).
We also pay particular attention to Nice Class 6, which essentially includes crude and partially worked base metals, including ores, and certain articles made of base metals. Accordingly, this class 6 includes sheet metals or metals in powder form for processing in 3D printing. Also included in this class are metal, metal pipes and tubes; small iron goods, e.g. bolts, screws, nails, furniture castors, window latches and even prefabricated houses and swimming pools.
However, if metals and ores are used as chemicals because of their chemical properties, then they must be assigned to other classes, e.g. bauxite, mercury, antimony, alkali metals and alkaline earth metals (Class 1). Likewise, certain articles made of base metals classified according to their function or purpose, e.g. hand-operated hand tools (cl. 8), paper clips (cl. 16), furniture (cl. 20), cooking utensils (cl. 21), household containers (cl. 21).
Basically, however, there is no great upheaval: Industrial robots are still classified differently from humanoid robots and there are also differences due to the use of joysticks – we reported.
Locarno classifications 2022
Robots are also classified in the field of design protection, according to the "International Classification for Industrial Designs", commonly known as the Locarno Classification. According to the Locarno Classification 2021/2022, in addition to industrial robots, vacuum robots and "robots for accompanying persons", mowing robots and lawn mowing robots also belong to Class 15, as do many things in the field of technology. Rescue robots, however, are assigned to Locarno Class 29, inspection robots to Class 10 and transfer robots to Class 12.
The 2022 version of the Locarno Classification has also been published, as last year under the title 13th edition, now the version Locarno-13-2022. The reason is, that the Locarno Classification is only reissued every two years, so there are no structural changes for this year.
Are you looking for IP protection for trademarks, designs or patents?
We will be happy to advise and support you in the necessary research and correct registration of your trade mark, design or patent.
Please contact us easily if you are interested – we look forward to your call!

Sources: 
Image:
own mix based on Kollsd | pixabay | CCO License and maciej326 | pixabay | CCO License