EUIPO's Observatory-section has released its newest "Observatory News". It is the first edition in 2017. This time the Newsletter focuses on their second IP Perception study revealing that 97% of young people believe that IPR is important and should be protected. Read more about the results and learnings from the study in our article!
Observatory News includes newest IP Perception study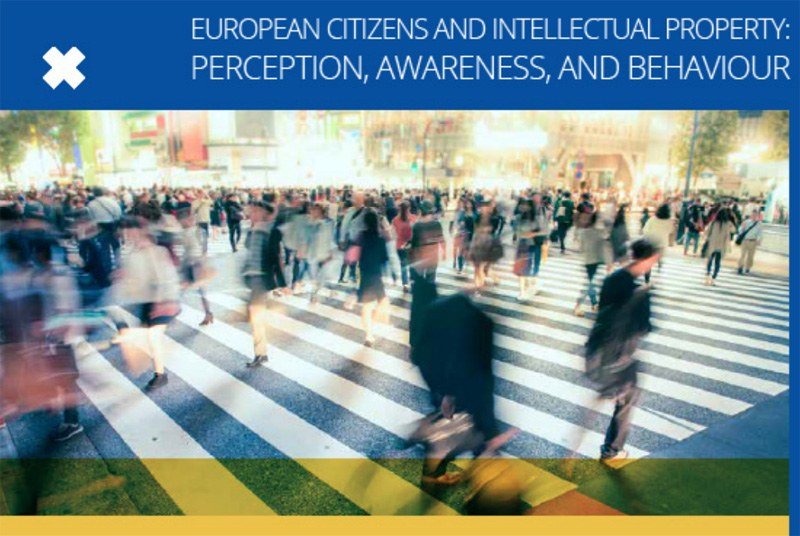 What do EU citizens think of intellectual property? What do they perceive its benefits to be? Do their views on Intellectual Property always affect their behaviour when they shop or when they go online? And how do their perceptions, and their behaviours, change depending on where they live, or how old they are?
In November 2013, EUIPO sought to try to answer some of those questions, via the first ever EU-wide study on how EU citizens perceive IP. The study, "European Citizens and IP: Perceptions, Awareness and Behaviour," formed an important part of the research and analysis carried out by the Office, through the Observatory. It was the first study to question citizens in all of the EU Member States about IP, through questions designed to find out what they knew about the topic as a whole and how the views and attitudes they held affected their behaviours when making choices related to intellectual property.
The results of the study served as a jumpingoff point for further research work, like the IP Youth Scoreboard, published in 2016, and were even incorporated into the methodology of the Quantification of Infringement series of studies, which has been rolled out since 2015. In March 2017, a second study was released. Nearly four years had passed since the first version, and, to build on and further delve into the results of the first, twenty per cent of all questions in the second version were brand new.
Results were compared against the results of the 2013 figure for an accurate snapshot of how views had evolved in the interim. Like its predecessor, the second survey questioned 26,555 people aged 15 and over across the EU-28 about their perceptions of intellectual property. The overall results confirmed the conclusion of the first study, with some changes.
Widespread Support for IPR among EU Citizens
Overall, 97% of respondents said they believe it is important that inventors, creators and performing artists can protect their rights and be paid for their work. 70% of those surveyed said that nothing can justify the purchase of counterfeit goods, and 78% believed buying counterfeits had a negative effect on businesses and jobs.
However, the survey shows that there appears to be more tolerance for buying counterfeits, in particular among young people. 15% of 15-24 year olds said that they have intentionally purchased a counterfeit product in the past 12 months, 9 percentage points more than in 2013. Moreover, in the context of the ongoing economic crisis, 41% of young people said they felt it was acceptable to buy counterfeits if the original product was too expensive.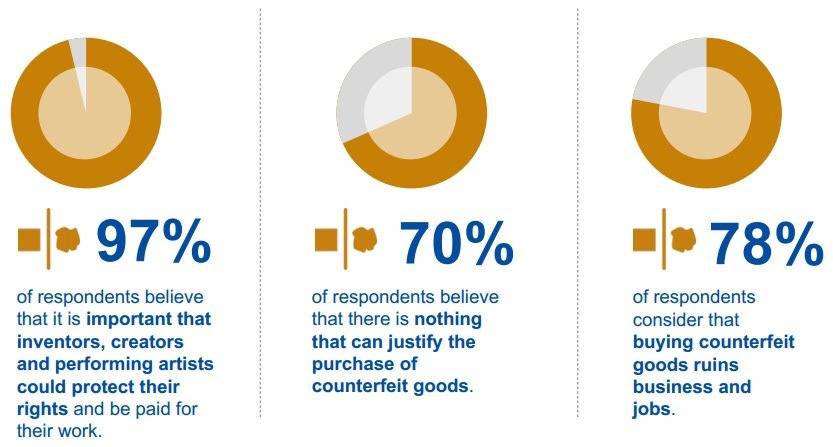 Three quarters of all respondents said they would stop purchasing counterfeits if affordable alternatives were available. 83% said they prefer to access digital content through legal or authorised services whenever there is an affordable option available, and 71% of those admitting to using illegal sources say they would stop, if they could access affordable alternative options. 27% of those surveyed said they had paid for content from legal sources, 7 percentage points higher than in 2013, with 69% believing that legal sources are of a better quality.
Among the 15-24 age group, 41% said they had paid to access content from legal sources, which is 8 percentage points higher than in 2013. The percentage of respondents who said that they knowingly accessed pirated content has not changed since 2013 (27% of 15-24 year olds and 10% of all respondents).
Purchasing Counterfeit Products without being aware of it
However, confusion is growing about what constitutes a legal source. Last year 24% of respondents, five percentage points more than in 2013, wondered if an online source was legal, rising to 41% among young people. Additionally, 10% of respondents said they were misled when buying products.
The report was launched at a meeting of the Legal Affairs Committee of the European Parliament by EUIPO's Executive Director, António Campinos. Mr Campinos told MEPs that "support for IP rights continues to be high in Europe, although there is room for improvement in helping young people in particular to understand the economic logic of IP and the social impact of infringements."
Since the publication of the 2013 study, Mr Campinos underlined, EUIPO has carried out a number of actions based on its results, aimed directly at EU citizens.
The European online content portal, agorateka, offers a way to identify legal content online across the EU. EUIPO raises awareness of the economic value that IP rights bring in terms of supporting growth and jobs in the EU through its reporting and study series. And EUIPO supports Europol's IPR Crime Coordinated Centre, which works to combat online IP infringements.
Overview: Topics in the Observatory News Edition April 2017
IP Perception Study (Cover-Story)
Interview: The in-depth Interview of the Edition
In Depth: Quantification of infringement: Pesticides
Observatory Meetings: Full reports on the Observatory Meetings
News: IP and Enforcement News
Stakeholder News: Stakeholder roundup
Events: A roundup of what's coming up
About EUIPO's Observatory
The European Observatory on Infringements of Intellectual Property Rights is a network of experts and specialist stakeholders.
The Observatory's objectives are to:
Provide evidence-based contributions and data to enable EU policymakers to shape effective IP enforcement policies and to support innovation and creativity
Provide data, tools and databases to support the fight against IP infringement
Provide knowledge and learning programmes for IP and enforcement authorities as well as for businesses and IP practitioners
Develop initiatives to help innovators, creators and businesses (especially SMEs) protect their IP rights
Design campaigns to raise awareness of the value of IP and the negative consequences of IP infringement
Source: EUIPO's Observatory Newsletter April 2017