To ask for a judgement on the question of design violation and likelihood of confusion in response to a cease-and-desist letter is an unusual move. It almost fades into the background that the legal question is whether a high-heel shoe of the luxury brand Yves Saint Laurent can be confused with a Roman sandal.
High-heel tribute shoe by Yves Saint Laurent in focus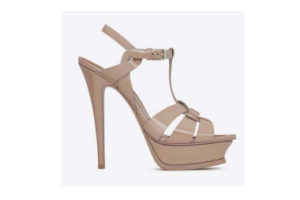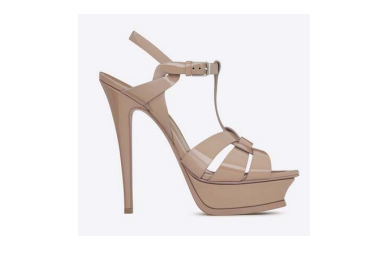 The American shoe entrepreneur Steve Madden filed a complaint for a declaratory judgment before the U. S. District Court Southern District of New York (Steve Madden, Ltd., v. Yves Saint Laurent, New York). S. District Court Southern District of New York (Steve Madden, Ltd., v. Yves Saint Laurent, 1:18-cv-07592 (SDNY)). According to Madden, the French brand manufacturer Yves Saint Laurent (YSL) threatened to sue Steve Madden for a patent and design infringement of the YSL Tribute shoe. Steve Madden now preceded this. By asking the court for a declaratory judgement, the threatening and possibly very costly controversy may be resolved.
Tribute High-Heels versus Sicilian Sandal
Steve Madden called on the court to declare that its own so-called Sicilian sandal does not violate YSL's high-heeled tribute shoe, and also to state that Yves Saint Laurent has no rights to the design of Madden's flat Roman-look sandals. This type of proactive action for a declaratory judgement to de-escalate the situation and eliminate the emerging uncertainty occurs time and again in patent infringement cases. This is because the patent infringement proceedings are often the subject of discussion with regard to license payments. In lengthy proceedings this can lead to very high costs for the suspect of the patent infringement. However, Madden's lawsuit is somewhat spicy, because Steve Madden had already been suspected of involvement in design infringement of the YSL Tribute Shoe by its Canada Shoe – and is even presented in the English Wikipedia with his own paragraph under the heading "Criminal conviction".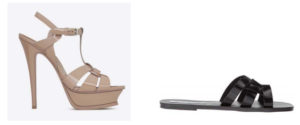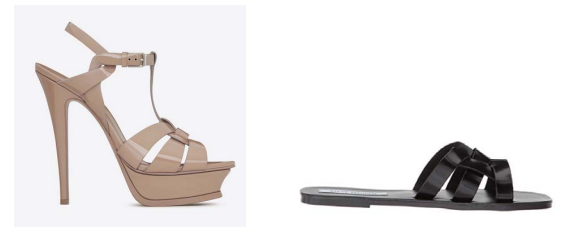 The Declaratory Judgement Act provides a mechanism by which those concerned can attempt to remedy ongoing violations of legal or constitutional provisions. It is based on 28 U.S.C. §§ 2201 et. seq., the Patent Act, 35 U.S.C. §§ 1, et seq., the Trademark Act, 15 U.S.C. §§ 1051 .
The Act may provide for broad-based declaratory and interim relief without recourse to class action proceedings. A party need not be a potential defendant to bring a lawsuit.
In the event of an actual controversy within its jurisdiction, any United States court may declare the rights of any interested party seeking such a declaration, whether or not a further exemption is sought. Any such declaration shall have the force and effect of a final judgment and shall be verifiable as such.
Source: http://www.federalpracticemanual.org/chapter9/section3
Madden's design violation "Canada Platform Shoe" solved as arbitration in 2017
As early as 2017, another dispute between Yves Saint Laurent and Madden over design infringement ended in arbitration. In that dispute, YLS accused Madden of infringing the rights to Yves Saint Laurent's tribute shoe by selling Madden's abandoned Canada platform shoe. Madden withdrew his Canada platform shoe – in fact a high heel shoe that looked very similar to the YLS Tribute high heel shoe. After this arbitration, Madden designed the now controversial Sicilian sandal, which has no resemblance to the high heel tribute shoe in his argumentation.
Yves Saint Laurent refers to "Tribute" product presentation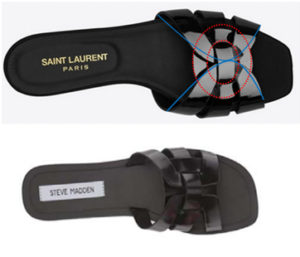 Madden's argumentation is also interesting in a second point of contention, which will have to be assessed in the intended declaratory judgment. Yves Saint Laurent not only refers to brand protection for his high-heel model, but also for a YSL "tribute" product presentation with flat shoes. Both the Tribute flat sandals and Madden's model work with a toe belt as an elliptical central element. Steve Madden argues that the primary meaning of a product presentation is to identify the origin of the product and not the product itself. Therefore, Yves Saint Laurent cannot, in any event, rely on the "tribute" product presentation in the sense of distinctiveness and possible patent infringement.
No likelihood of confusion between luxury and affordable brands?
In addition, declarant Madden points out that shoe brands can be found in different segments. Yves Saint Laurent is a high-quality, expensive luxury brand, Steve Madden's own brand a medium, more affordable brand. For this reason alone, there was no likelihood of confusion.
Similarly, only a few weeks ago the Higher Regional Court of Munich (OLG München) had argued in the unusual proceedings about the risk of confusion between the designer bath flap of Dolce & Gabbana and Pumas Rihanna Modell– we reported (Luxury bath slipper may be modeled after Puma's Rihanna model). The OLG München humorously made clear which product it is, the consumer notices at the price, because the bath flap of Dolce & Gabbana costs a multiple in comparison to the Rihanna Puma model. The OLG München saw no danger of confusion.
Would you also like to secure your design or trademark rights?
Our patent attorneys and attorneys at law are experienced and highly qualified in all areas of intellectual property law, both nationally and internationally.
Request your call-back without any obligations!

Sources:
Complaint of Declaratory Judgment: Madden vs YSL
Picture:
From the Complaint of Declaratory Judgment