PayPal Inc. sued internet radio provider Pandora mid-May over risk of confusion about the companies' app-logos in the US and claims damages in an undisclosed amount.
Both companies use the stylized letter "P" in conjunction with white and blue elements for their logos.Both are doing business providing online services. But do these facts effectively constitute risk of confusion with costumers? Will financial damages actually develop for the online goliath if users open Pandora-app instead of PayPal-app accidentally and thus take a few seconds longer to get to the payment system?
After all the provided services differ significantly from each other, one provides a payment system another entertainment. Whoever mistakenly opens a streaming-app on his phone yet intended to make a billing transaction will quickly notice the "mishap".
Music starts playing instead of payment: PayPal users are annoyed
Paypal certainly sees it that way and utilizes a number of tweets as proof. According to those PayPal users appear to be annoyed over the fact they can't make their payment transactions as quickly as accustomed to or to instead unwillingly play music from an internet radio.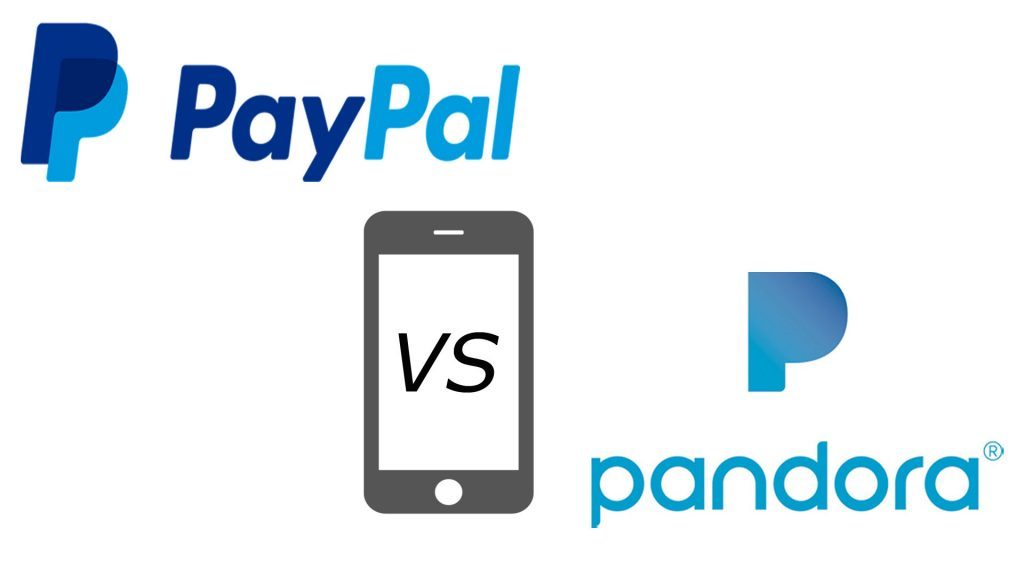 The provider's logo seems to loose some of the appeal customers appreciate about the transaction pal, at least to those having the Pandora-app on their device as well. By now it has become apparent: PayPal has need for action!
Direct trademark infringement might not be the case due to the each company's field of business may very well be so far from one another that confusion of their products sources could be excluded. No average customer jumps at the mention of internet radios to the conclusion that such services be provided by a payment system company.
Classic case of trademark dilution
However this is where PayPal builds its case. The company has not just read user's tweets stating they unwillingly played music in situations tunes were less desired. Apparently there were some users as well who wholeheartedly questioned whether the streaming provider had been bought by PayPal. Hence PayPal fears for its trademark to not be related with a payment systems platform only. This presents a classic case of trademark dilution! Pleading on a for many years unchanged trademark family defendant has now been requested to not use its logo in the present form.
How would this trademark case be treated from a European standpoint?
Firstly one should investigate whether mark identity or similar goods and services are present for both marks. If neither is the case, as present with the case of payment system platform and music stream provider, for an alleged infringement to be present it depends on the fact that the marks in question are at least similar to each other and the older mark's esteem or distinctiveness might be harmed by the existence of the younger mark's existence.
In this case the similarity of the logos is obvious: both marks contain the centered letter "P" in a similar type font and both marks predominantly use the colors blue and white; in Pandora's logo the letter "P" is white and the background uses a blue hue, in PayPal's logo the letter "P" uses a blue hue and the background is white.
Next, for an alleged infringement to be present it depends whether users confuse both logos with each other, because they deem the same provider behind the app's logo. According to PayPal this supposedly occurs quite often.
How damaging is the confusion really for the company? US court decides
But are users really so irritated about the mix up they consider to stop using the payment system platform or even cease recommending it? Some of the user's tweets PayPal presents in their lawsuit seemed to take the mix up with a grain of salt. In this particular case a New York court will have to decide about the pros and cons about an alleged trademark infringement.
We note for users having both apps: putting the logos on different screens or different corners of your devices. This way one can prevent unplanned concerts in a quiet office.
Our additional recommendation to everyone who's planning to use a logo for his/her app in the future: check first, whether any provider has similar trademarks or logos.
We will be happy to handle this matter for you!
Are you suspected of having infringed trademark rights or is a competitor violating your rights?
Then we should talk to each other, because this is not to joke! Our lawyers advise you individually and together with you develop the right strategy to protect your brand.
Make a free and non-binding call back-appointment today !

Source:
Graphic: Photomontage Dr. Meyer-Dulheuer & Partners LLP / The PayPal and Pandora Logo are protected as trademarks. They will only be used by us for editiorial purposes.
Text: From our Attorney at Law Ms. Jeannine Zorn