The European Court of Justice ruled in an important issue for all trademark owners. Must the distinctive character acquired through use of the trademark be demonstrated in each EU Member State? This is the decisive conclusion of a long-standing dispute between Nestlé and Mondelez.
Background of the disput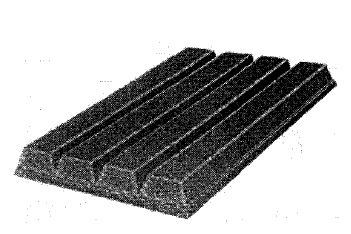 In July 2006, Nestlé SA was registered as an EU Community trade mark as a three-dimensional trade mark (four identical trapezoidal trapezoidal sheets arranged on a rectangular base) in Class 30 for the goods "confectionery, bakery, pastry, biscuits, cakes and waffles". EUIPO objected to the registration as "Chocolate, chocolate products, confectionery, sweets", but published Nestlé's desired application in the Community Trade Marks Bulletin No. 3/2006.
In March 2007 Cadbury Schweppes plc (now Mondelez UK Holdings & Services) filed an application for a declaration of invalidity of the trademark granted. The Cancellation Division of EUIPO approved the application and declared the mark invalid in January 2011.
Nestlé appealed against the decision and was right to do so: in December 2012, the EUIPO Second Board of Appeal annulled the decision.
In turn, Mondelez did not agree with this and the case came before the European Court of Justice. In December 2016, a judgment was delivered before the ECJ in this case: The ECJ annulled the decision of the Board of Appeal and Nestlé was defeated in court.
ECJ: Nestlé's action dismissed
The ECJ dismissed Nestlé's action. It is true that it is not necessary for the registration of a trademark under Article 7(3) of Regulation No. 207/2009, which is devoid of any inherent distinctive character in all member states of the Union, to prove for each individual member state that it has acquired distinctive character through use, the court acknowledged. Nevertheless, the evidence adduced must make it possible to prove that the distinctive character has been acquired in all member states of the Union, the ECJ added.
In particular, economic operators may be grouped together in the same distribution network in respect of certain goods or services in several Member States, and those Member States may be treated, especially from the point of view of their marketing strategies, as if they constituted a single and uniform national market, the court explained. Nor does any provision of Regulation No. 207/2009 require that passing off be established by different evidence for each Member State. Therefore, it could not be ruled out that evidence that a particular sign has acquired distinctive character as a result of use would be of value for several Member States, or even for the entire Union.
However, the distinctive character of an EU trademark must be geographically representative, the ECJ ruled. Accordingly, for a mark that is devoid of original distinctive character throughout the Union, it must be shown that it has acquired distinctive character for the entire territory of the Union and not only for a substantial or predominant part of the territory of the Union.
Therefore, it is not sufficient to limit oneself to submitting evidence of trade acceptance which does not cover a part of the Union – even if it concerns only one Member State, although such evidence can be provided comprehensively for all Member States concerned or individually for different Member States or groups of Member States.
The Advocate General had already expressed similar views in his opinion of April 19, 2018: For quantitatively and geographically sufficient proof of the acquisition of distinctive character through use throughout the Union, this diversity within the Union must be taken into account for each product and service, the Advocate General had ruled.
Are you interested in brand or trademark protection?
Please take your chance and contact us. Our lawyers are experienced in trademark and patent law, national and international law.

Sources:
Judgement of ECJ, EU:C:2018:596
picture:
kirkandmimi /pixabay.com / CCO License