Lego was victorious in counterfeiting file against Chinese companies in a Chinese Court for the first time. This concerns the Lego series "Friends", whose copies were sold in China under the name "Bela".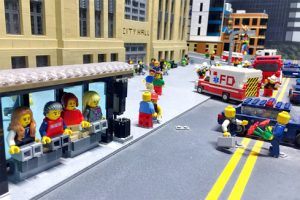 As Lego announced on Thursday, the China Shantou Intermediate Court ruled that certain Bela products infringe Lego's copyrights. Manufacture and sale represented unfair competition. The Court of First Instance also pointed out that certain aspects of the packaging had an unmistakable and unique appearance, which were protected by competition law. Manufacture and sale represented unfair competition.
The Danish toy manufacturer had filed a complaint against two Chinese companies, whose copies resembled those of the Friends series and were sold in China under the name Bela. Amongst others, the Chinese companies LELE, LEPIN and LOZ where suspected of operating counterfeit products. The defendant companies will now have to stop copying Lego's packaging and logos.
Cheap copies from China of its colourful bricks and figures have been a current problem for Lego. In the middle of the year, however, the Group was strengthened by a ruling of the Supreme Court in Beijing, which recognized the Lego logo and name as well known trademarks in China.
This puts Lego in a better position to take action against trademark infringement. The Chinese toy market is of great importance to the company.
Trademark Law in China: Evidence is a myth
In recent years, trademark owners have repeatedly experienced disappointment that they were unable to assert themselves in opposition, nullity or trademark litigation before Chinese courts. Often the cases were not supported because of insufficient evidence. For many, especially foreign trademark owners, the evidential value is a
myth
. The main difference to foreign procedures is the formality of the documents. Purchase contracts, purchase orders and invoices, as well as customs declaration forms should always be accompanied by official Chinese confirmation. The same applies to the reputation of a mark, which Lego received in the summer with the decision of the Supreme Court in Beijing: the reputation of a mark is an important part of all trade mark disputes, as it is used by the courts because of its earlier use over the same/similar goods/services or about well-known marks in connection with unfair competition.
The decision was already made in September this year. However, this case was not closed until Thursday when Bela finally decided against an appeal.
You want national or international protection for your trademark?
Our lawyers advise you individually and together with you develop the right strategy to protect your trademark.

Sources: