Beginning October 17, EFS-Web customers who use a deposit account or EFT for paying fees must use Financial Manager to store the payment method and to manage user access to the payment method.
Deposit accounts and EFTs that are not stored in Financial Manager as of October 17 will no longer be viable payment options for customers. In addition, customers must have established a uspto.gov account and be set-up with the Fee Payer permission in order to use the payment method.
Starting Oct. 17, the USPTO will process all EFS-Web payments via the new USPTO payment page only. All deposit accounts and EFTs must be stored in Financial Manager and customers must have Fee Payer permission in order to make a payment.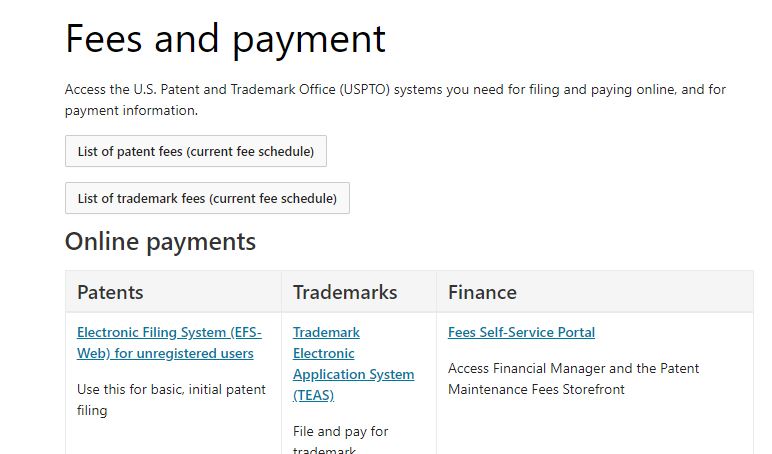 Customers will see a phased approach to this change beginning Monday, September 19, when deposit account customers who are not assigned the Fee Payer permission on the deposit account being used for payment will no longer see their name on the list of authorized users. Customers impacted by this change should contact their deposit account Administrator to be added as a Fee Payer before Oct. 17, when the ability to pay with old credentials (i.e. deposit account number and access code) will be completely removed as an option in EFS-Web.
EFT users must also store their EFT in Financial Manager and/or be assigned the Fee Payer permission on that EFT before Oct. 17, to avoid losing access to use the EFT as a payment method.
Get Familiar with the New Payment Page
Today, you can select the option to pay with "New USPTO Payment System." Additional information is available in the Introduction to the New USPTO Payment Page.
Apply for a Patent or a Trademark in the US
We can guide you through all the steps regarding your trademark or patent application. Please do not hesitate to ask for our free call-back service and get our help.

Source:
USPTO-Newsletter