A few days ago, an important judgment was reached in the long and complex dispute between Apple Inc. and Qualcomm Incorporated. In the battle for patent licenses, Qualcomm loses out to Apple in the royalty area.
United States District Court for the Southern District of California ruled twice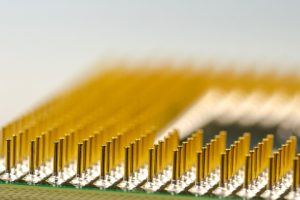 Qualcomm is an American company for 3G and mobile technologiesis and a supplier of various components for iPhones and tablets from Apple Inc., headquartered in Cupertino, California. Accordingly, licensing agreements and agreements on license payments have also been concluded between the companies. Two interdependent applications for royalty payments have been discussed in this case:
1. In August, Qualcomm filed an application for a restraining order to force Apple's contractors to pay intellectual property royalties as well, while these royalties are being negotiated in litigation, as in the second point.
2. Apple, in turn, sued Qualcomm in 2016 for its licensing policy violating antitrust and U. S. patent laws, and for its failure concerning "FRAND"
 "Licensing conditions for patents that are considered fair, reasonable and free of discretion are called
FRAND
(
F
air
,
 R
easonable 
a
nd
 N
on-
D
iscriminatory).  In particular, all participants are protected against future incalculable claims by a pre-defined fee system. The model of the uniform fee regulation for mobile phone standards (e. g. GSM and UMTS) is regarded as a model example."
Quotation: IP Wikipedia www.legal-patent.com.
The United States District Court for the Southern District of California ruled against Qualcomm twice:
it rejected two of Qualcomm's applications that
a) would have forced Apple's manufacturing partners to pay royalties, prior to a determination of what the total disputed royalties should be
b) would have stopped Apple from pursing antitrust cases against it in other countries.
Royalty and License agreements are important background of the dispute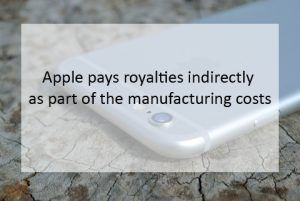 To understand the background of the conflict, you need to take a closer look at the contractual relationship between the two American technology companies. Apple does not pay any direct royalties to Qualcomm for the patents held by the specialist for semiconductor and mobile technologies in this case. Instead, Apple's contract manufacturers Foxconn, Pegatron, Wistron and Compal are paying license fees to Qualcomm for the use of their patents in the manufacture of iPads and iPhones for mobile phones. Apple thus pays these royalties indirectly as part of the manufacturing costs.
In addition, Apple and Qualcomm have entered into a contract under the published court applications that determines that Qualcomm will refund Apple the license rebate payments. Certainly, Qualcomm is giving in to the competitive pressure: the famous iPhone manufacturer is trying to become more independent from its long-standing module partner and is also cooperating with Intel and the German company Dialog Semiconductor.
In September 2016, Qualcomm discontinued its rebate payments to Apple. This follows a South Korean antitrust investigation that focused on Qualcomm's business practices and was supported by Qualcomms counterparty. Apple then sued Qualcomm for its licensing policy violating antitrust laws, U. S. patent law, and the FRAND commitment.
Even more painful for Qualcomm, Apple also instructed its manufacturing partners to suspend any royalty payments to Qualcomm until the case was resolved. Qualcomm responded by taking legal action against the manufacturers claiming that they had violated their contracts.
Difficulties to set the royalties
The United States District Court for the Southern District of California is actually charged with setting the FRAND royalties on Qualcomm's patents. This is not an easy task anyway. Qualcomm would prefer a San Diego court to determine a global royalty for all its essential standard patents. To do this, Qualcomm would like to know what royalties Apple grants to its production partners before Qualcomm is paid by them from the sale of their iPhones and tablets. For this point, it is important to note that the U. S. Supreme Court ruled in May 2017 that manufacturers and pharmaceutical companies should not be able to control the use or resale of their products (printer company Lexmark International in a patent dispute over the resale of used ink cartridges from another company).
Apple, in turn, wanted Qualcomm to be obliged to prove any infringement by Apple's equipment and also to provide for the voidness of patents in any jurisdiction, including China, Japan, Taiwan, and the UK. Moreover Apple's goal is to follow Qualcomm's practice of encouraging customers to sign patent licensing agreements before purchasing chips known in the industry as" no license, no chips".
Another dispute with ITC and U.S. Federal Court of Justice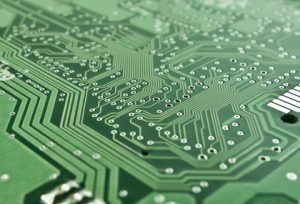 The court still has to resolve these issues, and so this dispute between the two counterparties will continue. In addition, other disputes are pending in other courts: Qualcomm filed a patent infringement suit against Apple with the ITC and U. S. Federal Court of Justice in July 2017. In its ITC complaint, Qualcomm alleges that Apple has infringed six of Qualcomm's patents and used the technology from these patents to achieve high performance of the smartphone while extending battery life. In this patent suit, Qualcomm has also filed a claim for damages and interim relief with the US District Court for the Southern District of California.
The decision of the courts, especially those of the U. S. federal court, can be eagerly awaited. Ultimately, the outcome will have an impact on Qualcomm's overall business model and could have wider implications for the entire wireless industry.
Do you want to read more of our articles?
Then please register for our weekly Newsletter: We provide latest news on intellectual property rights.

Are you interested in licensing or licensing agreements for your company?
Are you a manufacturer or pharmaceutical company and affected by the judgement of the U. S. Supreme Court about controlling the use or resale of your products?
Please take your chance and contact us. Our lawyers are experienced in trademark and patent law, national and international law.

Sources:
Fortune.com / Reuters
Patentlaywermagazine
pictures: blickpixel / pixabay.com / CC0 License ||  blickpixel (platine) /pixabay.com / CCO License  ||  hurk /pixabay.com /CCO License