The European Union Intellectual Property Office (EUIPO) has released its latest issue of the "Alicante News". The very first issue for 2017 has its focus on the DesignClass Phase II that went live in early January. Read more about the Alicante News in this article.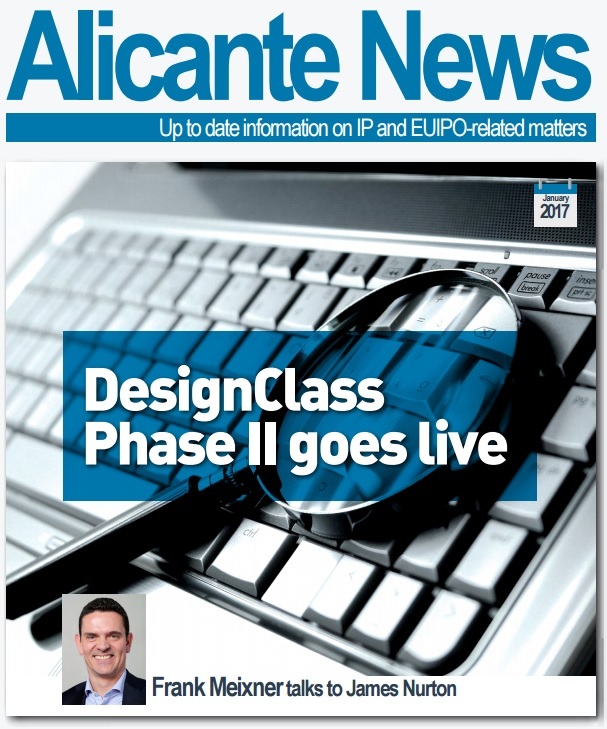 Phase II of the design classification tool, DesignClass, was launched on 7th January, marking the finalisation of the CP7 – Harmonisation of Product Indications convergence project.
A year on from the publication of the first ever Common Practice on designs, the second European design convergence initiative reaches completion The tool offers users and IP Offices a harmonised database of approximately 15,000 product indications, including the Locarno 11th Edition Classification terms. It is the result of collaboration between 24 participating EU Offices, 4 non-EU IP Offices, 2 User Associations, WIPO and EUIPO, who worked to pre-approve the harmonised product indications in 23 EU languages.
Prior to the development of DesignClass no common classification tool for designs existed in the EU. The CP7 project was therefore launched to converge practices in this area, by standardising the use of product indications within the EU and beyond. To meet its objectives, the project was rolled out in two phases. Phase I, which went live in November 2015, delivered the Common Practice, the harmonised database of product indications and the first release of DesignClass.
Read more about the Completion of the DesignClass Phase II here.
December-Statistics: More EU Trade Marks and registered Community Designs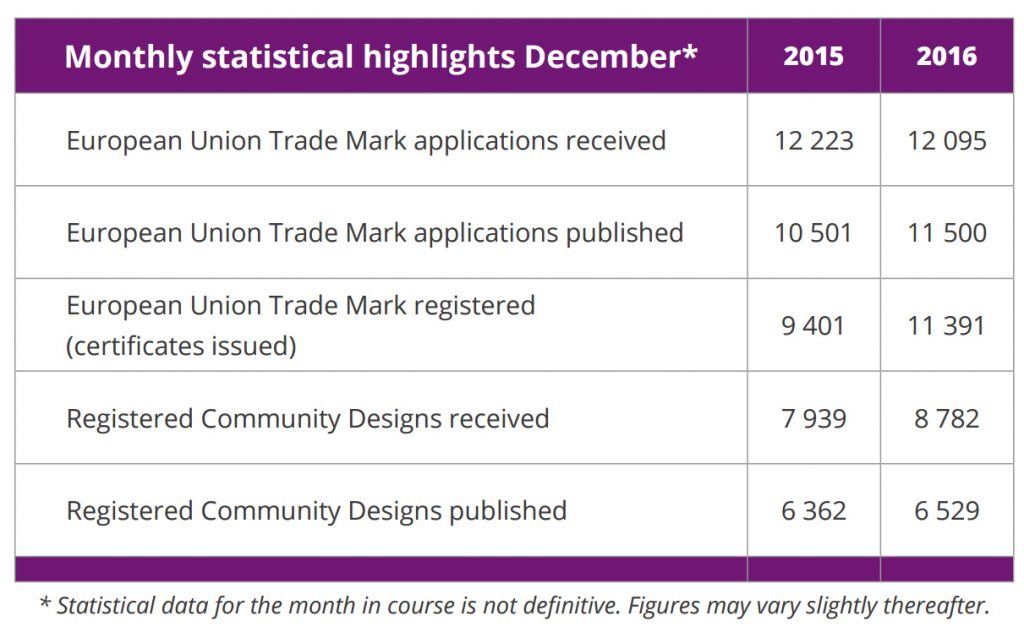 Overview: Topics in Alicante News January 2017
DesignClass Phase II goes live
James Nurton Interviews Frank Meixner
Switzerland implements CP5 Common Practicel
1st Implementation Workshop ECP4 Collaborative Network in Vilnius on the 26th to 27th January 2017
Harmonised Database (HDB) updated with latest changes to Nice Classification
Publication of the Summary Report: Consumers' Frequently Asked Questions (FAQs) on Copyright
About Alicante News
ALICANTE NEWS is edited by EUIPO and published on the first working day of every month. The aim is to provide up-to-date information on EUIPO-related matters, as well as on other general IP issues, to the users of the European Union trade mark and design registration systems.
The EUTM and RCD sections publish articles produced by EUIPO's Knowledge Circles and analyse the latest issues relating to trade mark and design case law. The Case Law section gives a monthly rundown of cases brought before the Courts in Luxembourg and the Boards of Appeal.
Source: EUIPO Press Release