In just a few hours, the turn of the year is coming. Reason enough to review the past year and give an outlook for next year. Of course, we do not want to forget to wish you and your family a "Happy New Year" 😉
In 2016 much has happened in the law firm. Already at the beginning of the year, we were honored by the World Trademark Review as the World's Leading Trademark Professionals 2016 from more than 70 countries. The "World's Leading Trademark Professionals 2016" award, however, should not be the last. In total, the law firm and its attorneys received 10 awards and appraisals in 2016:
Global Law Experts 2016
Corp. INTL Global Awards Winner 2016
Five Star Law (Recommendation)
iam Patent 1000, 2016
International Advisory Experts Awards Winner 2016
World Trademark Review 2016 (Law Firm)
World Trademark Review 2016 (Recommended Individual)
Corporate Livewire Award 2016
Iurratio Online Awards 2016 "Online Innovation"
Top 5 Trademark Applicants in Frankfurt am Main
But not only the lawyers of the law firm have done all sorts of work. Our two marketers, Linda Stadtbäumer and Tobias Roth, also managed a lot in 2016. Dr. Meyer-Dulheuer & Partners LLP is now part of the Facebook Ambassador Program SME (Small Medium Enterprise) and is mentioned at Facebook Business Success Stories.
The law firm's page is visited by several thousand users every month, on the one hand to claim our expertise, but also to inform themself about the newest trends and changes in "Intellectual Property Rights". We are very pleased with this development, so we will stick to this idea in 2017 and publish more articles!
Attorney at Law Ilyas Güclü becomes Partner of the Law Firm
Our lawyer Ilyas Güclü, previously working as an Associate, has been a new partner of the Patent and Attorneys at Law Dr. Meyer-Dulheuer & Partners LLP since mid-April 2016. Ilyas has been working with us as a lawyer since 2013, and since April he is managing as a partner. Ilyas was very pleased with the appointment:
"I am pleased to be appointed as a partner. Although I have received some offers from internationally renowned law firms and companies, I chose Dr. Meyer-Dulheuer & Partners LLP. I regard the nomination as a partner not only as a pure promotion, for me it is a confirmation of my work, from which I can now reap the fruits", says Ilyas Güclü.
Dr. Tim Meyer-Dulheuer, the co-owner of the firm, is also delighted with the decision of Güclüs: "With Mr. Ilyas Güclü, we have included a colleague who has been doing excellent work for our clients and the law firm for many years. As a partner, he will continue to strengthen the very important practising areas of intellectual property protection for us."
Dr. Meyer-Dulheuer & Partners LLP 2.0 – Relaunch of the website
In fall, it was finally done: after a long planning and many design- and programming hours, the website of our patent and law firm has arrived in 2016 and in modernity. In short: We have a new website! Admittedly, the site was already modernized before the relaunch, but as it is, you always want to go with the times and that's exactly what we did! 😉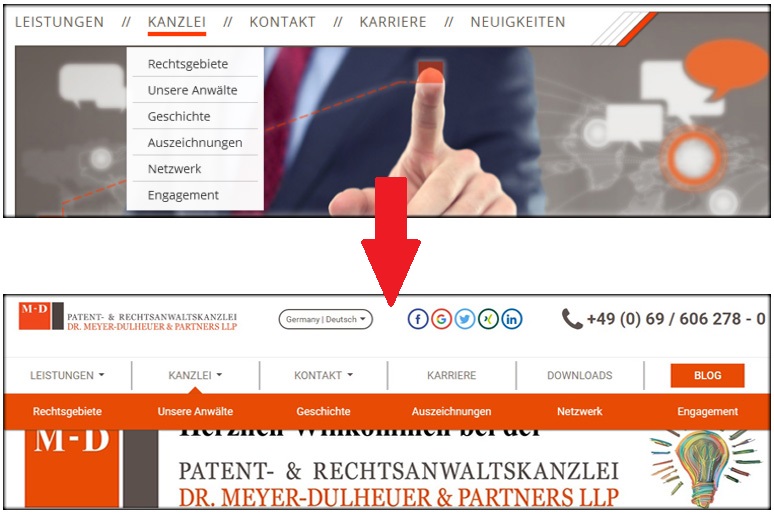 The new page brings significantly improved user experience for users who access via PC, as well as for smartphone and tablet users. The loading times have been shortened, the website is also mobile-attractive and the general usability has improved. The blog has also benefited from the re-design: a clear and understandable subdivision of categories makes it easy for visitors to find exactly the articles for the topic that they want to be informed about.
First pure information page goes online – Patent-anmelden.net (German only)
With our info-page "Patent-anmelden.net" we want to create access to the rather complex topic "patent registration" and provide answers to the most urgent questions. In this process, the W-questions principle is followed: "Why", "What" and "How" I apply for a patent.
Our info page also gives you (expert) tips along the way, shows you tumbles and gives you instructions and infographics, that are downloadable! And if there should be questions or problems – in our "help" section you will find the right specialist for your concern. 🙂
Again – many Event-visits in 2016
Just as in 2015, our employees were once again active at various events. Back in January, Ilyas Güclü visited the world-renowned "Heimtextil" trade fair to talk with (potential) clients about the protection of their (exhibited) intellectual property. Junyi Zhu, European Patent Attorney, also had a lot to do at the beginning of the year. She was invited by the Chinese Patent Office to Hunan and Henan Province to inform about the protection of intellectual property in Germany as well as the EU. Over 100 Chinese companies listened to her lectures!
In a short recap she tells about her trip to China.
For Sandra Kütterer and Junyi Zhu there was the event highlight at the end of May: the annual "INTA" meeting was on! With more than 10.000 other attorneys, they met in Orlando, Florida to meet with peers, exchange contacts and discover the latest trends and developments. You can find a report here.
In autumn, the internationally renowned trade fair "Automechanika", held by Ilyas Güclü on behalf of the Uludağ Exporters Association (UIB) and Junyi Zhu, was held for the Taiwan External Trade Development Council (TAITRA). English-language recap of the two on the event can be found here and here.
But not only the lawyers could deepen their knowledge and make new contacts. Tobias Roth, Head of Marketing of our law firm, has also attended some events, seminars and webinars. In November, he represented Dr. Meyer-Dulheuer & Partners LLP in the "Digital Durchstarten" discussion, organized by Facebook.
Outlook 2017 – (further) Progress instead of steping back
2016 raised the bar set high – but we want to continue in 2017! Our recent move to St Martin Tower will support us in this endeavor. We would also like to be one of the top applicants in Frankfurt am Main again. Our clients require highly qualified lawyers with appropriate professional experience and good (technical) knowledge. We will meet these requirements in 2017 as well! In order to support our team, we will hire additional lawyers, not only to expand the law firm, but also to gain more expertise in Intellectual Property!
From a technical point of view, we will further improve the user experience on our website till it's perfected – be curious! 😉
But not only in the background there will be a lot going on: For 2017, we would like to offer our clients and readers even more. An employee finding calculator (for now, german-only) as well as an extensive IP-Wiki (for now german-only) is planned. The latter will be reached under the sub-domain "wiki.Legal-Patent.com" and among other things. The topics "patents", "brands", "registered designs" and "employee recognition". We can already say with certainty that our wiki will explain over 200 terms and will give you valuable tips 🙂
We wish you and your family & friends a good start in the new year and would be glad if you would stay true to us in 2017!