Japan is now extending its grace period for patent applicants in Japan: instead of the previous 6 months, 12 months may have passed between the first disclosure of the invention and the patent application.
Grace period for patent applications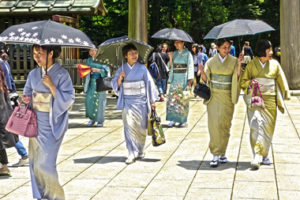 In many countries, the following applies in patent law: novelty is an absolute prerequisite. But what about patent rights for inventors who already disclose their invention before filing patent applications? This happens again and again, as the presentation in lectures or conferences is often necessary for company presentations, especially to potential customers, business partners or investors.
Grace period now extended to 12 months
Japanese patent law does justice to this circumstance. Article 30 of the Japanese Patent Law provides for an "Exceptions to Lack of novelty". And with effect from June 6, 2018, the period granted between disclosure of the invention and the patent application is 12 months.
Previously, the grace period was only 6 months. In addition, very restrictive requirements applied before 2012. In principle, the information had to be provided at the world exhibitions designated by the Japanese Patent Office. Many non-Japanese inventors therefore waived their patent rights in Japan.
Since 2012, however, almost all information provided by the inventor or patent right holder himself has been taken into account. This includes publications at trade fairs, meetings and conferences inside and outside Japan as well as TV presentations of the invention. It is important here that the person who presented and thus disclosed the invention is also the person who has the right to the patent.
Patent application in Japan with grace period
The Japanese grace period can only be granted with proper registration. This is done
by filing an application directly with the JPO, or
by filing a successful PCT application designating Japan.
It should be noted that entry into the national phase of the Japanese PCT must take place within 30 months of filing the international PCT application.
Disclosure or filing of the same subject matter or invention by another person may invalidate the novelty and would lead to rejection of the patent application. However, prior disclosure by the applicant himself does not diminish neither novelty nor inventive step.
Do you want help for patent application or protection for your patents?
Our Patent Attorneys and Attorneys at Law bundle are experts in patent- and trademark law, national and international.
Please take your chance and contact us – a request for a call-back is non-binding:

Sources:
Picture:
cegoh / pixabay.com / CCO License